The thing about cycling is that you will either love it or hate it. For the most part, people that get on a bike for the first time enjoy the experience. As a child, it's an exciting prospect and a step closer towards being more independent.
One thing that some parents struggle with is ideas to make cycling a fun and enjoyable experience. It can sometimes be stressful for moms and dads; trust me, I should know! But, the good news is that there are some good ways to make everything more fun. Here are some of my tried and tested methods that I'd like to share with you today:
Choose a brilliant cycling location
The area you take your kids to for a day of cycling will set the mood for the duration. In other words, if you take them somewhere lame, they are going to hate every minute of it! That's why it is important you pick a location that is fun and engaging.
Examples of good cycling locations include nature reserves and parks. For safety reasons, make sure it's not an area where vehicles often drive through.
Take some snacks with you
If you're all going to spend a few hours in the outdoors with your bikes, you will need some food and drink. One option is to go somewhere with a cafe on-site. But, the better option is to pack some snacks and drinks that everyone will enjoy.
As a treat, you could always buy your kids an ice cream from an on-site vendor if the weather's nice. It goes without saying that you shouldn't treat your children if they've been naughty!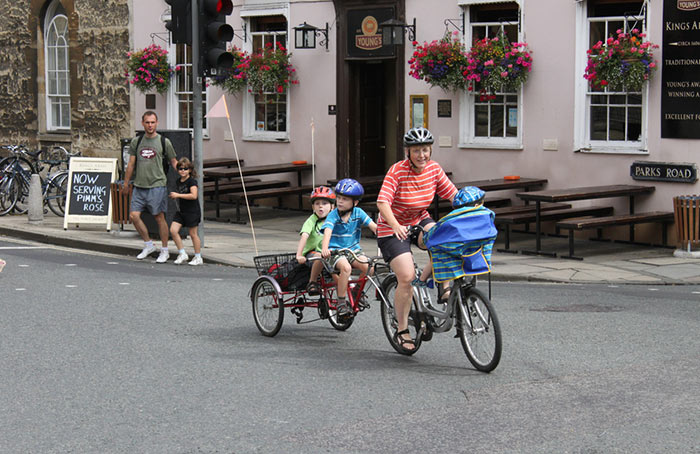 Wear the best clothes for the conditions
It's important that everyone is warm (or cool) enough during your cycling adventures. The season you go out cycling will dictate what clothes you should all wear.
At the same time, you don't want to wear heavy articles of clothing as it will affect your ride quality. You could get some custom cycling jerseys, for instance, to keep warm and look good!
There are plenty of websites you can check out that will give you ideas on the right clothes to wear for the occasion.
Break up your day with other activities
If you spend the entire day cycling, you might make the experience tiring and boring for your kids. It's better to split the day up with different activities apart from cycling.
If you visit a nature reserve, for instance, you could do some walking and find a nice picnic spot. And should your location be near a lake, a quick (and supervised) dip in the water can help to cool you all down on a hot day.
Make sure you all have the right bikes for the job
Last, but not least, it's crucial that you all have comfortable bicycles to ride. The last thing you want is for one of your party to have a sore backside after a while!
Consider visiting a bike store before you go out cycling. That way, they can make any necessary adjustments to your bikes. Or you could trade in your old models for newer, lighter and more comfortable ones.