I'm really bad with birthdays. So bad in fact, that my family regularly expect their gifts the day after their actual birthday. In recent years it been getting better, as Mummy Geek has taken some of the responsibility. However, the process is usually the same. Go to Amazon, guess at a gift, add gift wrap and hope for the best.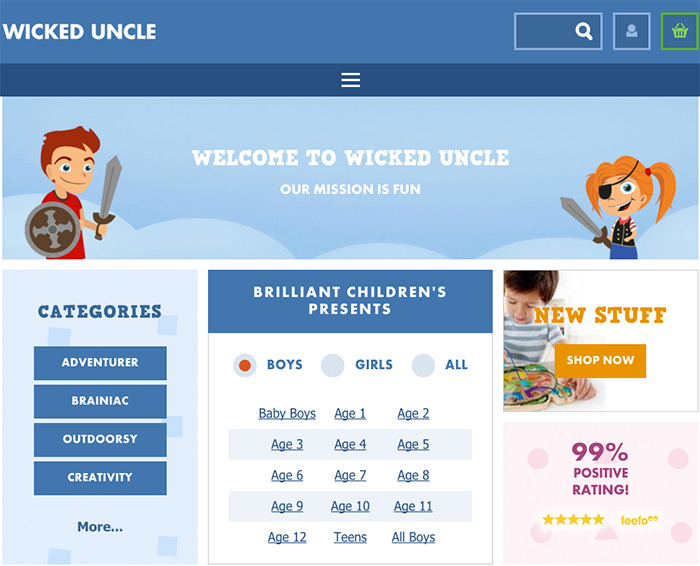 Wicked Uncle is a new online store who's focus is improving this very situation. Uncles, aunts, grans and grandad's can go online, select gifts by gender, age or play-style and use an array of different options to wrap it (from various styles) and add a card. The site is simple to use and many of the products offer 'good clean fun' and there is a distinct lack of weapons and mass market action figures. The products cover building sets, robots, family games, learning aids, funny gifts and books, so you'll find something for everyone. The filter system makes it incredibly easy to shortlist ideas and the wealth of positive reviews and feedback is reassuring.
The girls and I recently ordered a bubble maker and recordable answer button, in order to have fun both inside and out. The ordering was simple and regular emails kept you abreast on what was going on. Delivery was fast and the items were packaged with care. Sadly, everything needed batteries so I had to go out in order to get everything working. However, once we were up and running we had great fun. Check out the video below for our unboxing and bubble quiz.
Overall, we are really happy with our purchases and knowing about this site will come in very happy, with Christmas only 10 weeks away. If you are terrible at gift buying, or if you have no clue what a 4 year old girl plays with these days, then check out www.wickeduncle.co.uk as they can certainly help you out.