Diets are really tough and keeping track of what you eat and drink can be difficult. I have been dieting since January and since then I have tried both Weight Watchers and Slimfast. Slimfast brought me out in an itchy rash and Weight Watchers always seemed to leave me hungry. I needed something new.
Then, hidden down the side of the fridge in my local Waitrose was a cute little bottle, with vivid colours and a fun markings.  Upon further inspection I discovered Upbeat!
Upbeat by The Good Whey Company oozes personality and comes in two great tasting flavours; strawberry and mango & passion fruit. The drinks themselves are high protein dairy drinks made with a mix of real fruit and milk extract (sourced from British milk).
My diet has meant that I have been living on watery soups, yogurt pot servings of pasta and evening meals. I was sure that this change in my eating habits was leaving me low of certain vitamins, minerals and proteins. To combat the former I took daily 'effervescent' tablets but these did not contain protein. In order to meet my protein quota I turned to Upbeat. Whey protein is considered a 'complete protein' and contains nine essential amino acids and is low in lactose content. After I week of use I felt great and coupled with regular gym visits I could feel myself getting slimmer without having the constant hunger I seem to endure during my Slimfast days. As Upbeat is only 145 calories a bottle it barely scratched my daily allowance.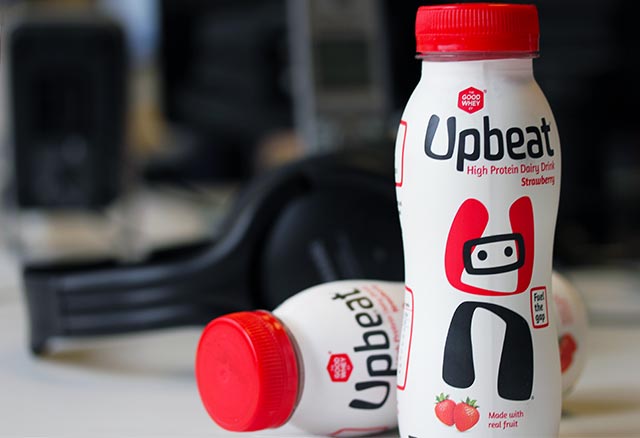 The consistency is somewhere between a smoothie and a milkshake as it has the coating feeling of a milkshake but feels light on the stomach like a smoothie. You can taste the real fruit with every mouthful, especially with the strawberry flavour. The only drawback is the size, as the 250ml bottle slips down a little too easily. However, its tagline about 'fueling the gap' was not far wrong, as it definitely kept my hunger at bay.
Upbeat is relatively new so you can't find it everywhere, so check out their website at http://www.feelingupbeat.com/ to find out if you can get it near you as I would recommend it you are looking to control your diet or if you are a particularly busy person Upbeat is a great way to increase the protein in your diet.