I need to shave. I have two young daughters and being a generally 'cuddly father', I often kiss and cuddle them only to leave sandpaper-like burns on their skin. They are soft and delicate and i'm… We'll i'm a man who is also soft an delicate but I get pretty rough stubble. As such I shave everyday, but shaving is an expensive habit, especially, if you go for the big brands.
Years ago, however, I was reading a marketing book whilst sang the praises of the '$1 Razor' which was a huge success in the US. The razor was good quality and their subscription service worked wonders. I instantly looked for a UK equivilant to no avail.
Fast forward a year and I have finally found it. Shavekit is here.
Shavekit was formed in 2013 by two men named Tom. Their aim was to create a quality razor without all the fuss and fluff that seems to surround the shaver market.
I can totally understand this point of view as there is no need for expensive sports stars or the slew of different models and styles. Sensor, sensor excel, fusion, pro-glide, Mach3, sensitive, pivot, and smooth shave are all too much.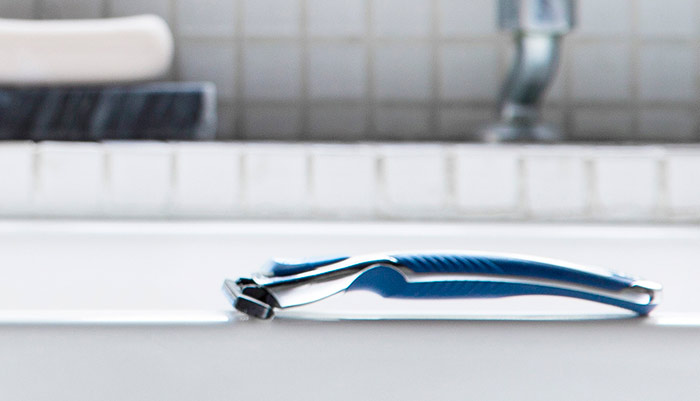 Shave kit has two options, 3 blade for £6.95 per month or 5 blade for £8.95 per month but you don't need a monthly contract. Both have ceramic-coated carbon steel blades, an Aloe strip to smooth and soothe, a non-slip quality rubber grip and an anti-clog cartridges for quick rinsing. It's fine for both daddies and mummies.
Your first delivery contains a handle and 4 heads and after about 30-60 days later they deliver your replacement blades. It really is that simple. On a bi-monthly subscription it works out at £1 a week and as there is no contract, there is no commitments.
So there you have it… Shaving made easy. If we daddies like one thing then it is simple solutions that make life easier.
If this service is something you would like to investigate further then check out the website at http://www.shavekit.co.uk and if you do purchase then use the offer code DADDYGEEK to get 70% off your first order.