As a family, we are huge fans of personalised photo gifts. Every Christmas we create a 50+ page photo book, that serves as our family album for the year. We also create smaller books for extended family and Uncle Gaffer (nickname), who lives in Australia. For us, personalised photo gifts are the presents that not only show some thought, but are one of a kind. Our budget does not stretch to expensive tech or designer labels, instead we opt for unique gifts that make people smile.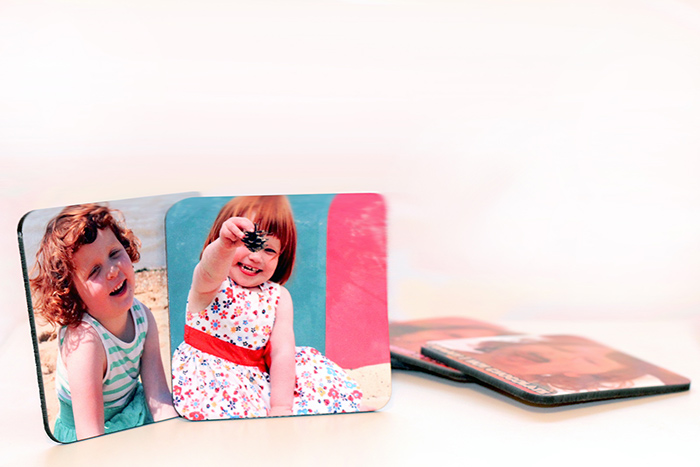 This year we are looking at personalised coasters and wanted to try something a little different and came up with various creative ideas. The chosen idea was 'squashy faces'. This was inspired by a photo I took of my youngest with her face pressed up against the patio window. To this day it always makes me smile.
The plan was to use a window (or glass shelf in our case) to press our faces against in order to pull funny faces. The resulting photos would be captioned and then printed on coasters. We had other ideas that included creating camouflage ones, in which we would take a photo of the place where the coaster would be used, then print it on the coaster, so it would seem invisible. We also had the idea of scanning the children's paintings and drawings to add to coasters (along with their age), so we had a semi-permanent memory of the artwork they created.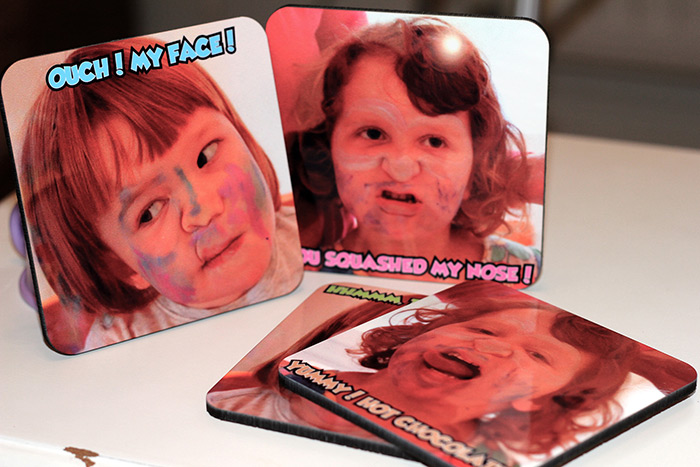 The votes from the girls, however, were unanimous, squashy faces it was! They wanted to get even more creative by doing some face painting first and then squashing their lovely little faces against a pane of glass from an unused shelving unit. Once the photos were done I added some 'comedy' text and ordered them from Snapfish. The website is easy to use and it has access to all my photos via Flickr, so it's my first port of call for any photo gifts.
When they arrived, we were pleased as punch! The squashed faces looked fantastic. When family members lifted their drinks off and saw them underneath they got a lot of laughs. We got a set for us and a set for Uncle Gaffer's christmas parcel as he will find them hilarious.
So if you are looking for inexpensive unique gifts then I can heartily recommend trying the various photo gifts from Snapfish. Whether you are creating a family album, a set of coasters or simply printing out your photos, Snapfish have a great introductory offer and the prices mean you won't break the bank.
A huge thank you to Snapfish for the discount code as we can now say we have started our Christmas shopping.