December is one of the best months of the entire year. Kids go crazy in December, because there are loads of fun holiday things to do. As a parent, you are going to struggle to keep up with your kids this season. If you feel like it is about time to get into the holiday spirit, you should plan some cool activities for your kids. Keeping your kids busy during this season is pretty easy. As a dad, you know how much children adore everything about Christmas. Indulge your children and get into the swing of things with these awesome activities.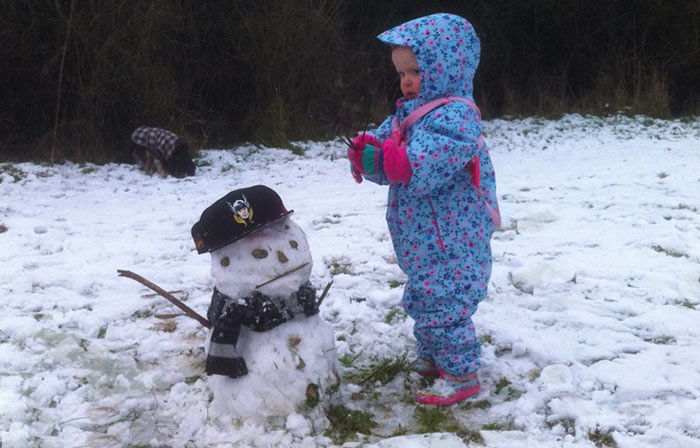 1. Make a snowman
If it snows, there is only one thing you can do. Making a snowman with your kids is a great way to spend an afternoon. When you have made the snowman's body, you should use accessories to give him some character. Old clothes, such as hats and scarfs, work well to bring snowmen to life. You will also need a carrot (or a stick) for your snowman's nose, and some pebbles for eyes.
2. Watch Christmas movies
One of the best things about the holidays is that there are always Christmas movies on TV. Check the TV guide and see what classic movies are on at the moment. You and your kids can have a great movie evening if you stay in and watch some classic cinematic delights.
3. Make popcorn and cranberry garland
Making popcorn garland is a great tradition. Kids love making this decoration because they can eat the ingredients as they make it. You can buy popcorn online at sites like CandyFavorites.com and get some cranberries from a store. Thread the ingredients carefully to make a cool decoration for your tree. Make sure you watch your children while they make the garland, or they might just eat all the ingredients.
4. Donate toys to charity
Charities are always looking for people to donate toys and gifts to them during the holidays. You and your children can go through their old toys and see what they might like to donate to a good cause. Teaching your children to be charitable now is a great way to ensure that they care for others. There are loads of charities who take toys as donations and give them to poor children.

5. Bake cookies for Santa
Everybody knows that Santa loves cookies. He just can't get enough of them. When it is almost Christmas eve, you need to bake Santa something so that he can have a quick snack. After all, delivering six billion presents every year is a tough gig. You and your kids will have loads of fun creating some tasty treats for Santa. Look at some easy recipes online and see what you can find. Make the cookies special by adding some chocolate chips or some delicious peanut butter.
6. Decorate stockings
Decorating individual stockings for everyone in your family is a fun activity that your kids will love. You can buy plain Christmas stockings online to decorate. You could make things fun by decorating stockings for each other so that everybody gets something unique and fun. Be careful with craft supplies around your kids.
7. Take a family photo for your cards
There is nothing sweeter than a family Christmas card with a portrait of you guys on the front of it. Dress up like elves or reindeer and take a photo of the whole family. You can use the photo to create a lovely personal Christmas card to send out to people over the holidays. You and your kids will have so much fun dressing up and posing to get the perfect holiday picture!