Temper tantrums, comedy falls and insect chasing dogs, don't sound like moments that bring you closer to your family but they do, and for that I have to thank The Watchbot.
Webcams sounded like a good idea back in the nineties, but they failed to make an impact. More recently, the likes of Skype, FaceTime and Kinect has meant they are coming back, but ultimately their use is limited to straightforward face to face communications. However, when I heard about the Watchbot I became intrigued, as it combined the accessibility of a webcam with the functionality of a CCTV camera.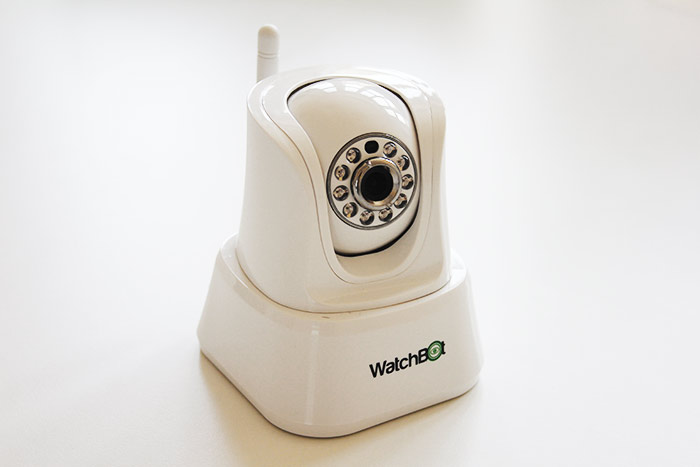 The Watchbot is a solid piece of kit and feels reassuringly expensive. The weight is substantial, the white gloss finish is slick, and the camera mounted infrared LED's mean you can use it day or night. I am pretty tech-savvy and was able to set it up quickly and easily on my WiFi network (after finding the correct URL which was different to the one provided-this was later fixed). Once connected, the camera promptly tested its gyros and settled into its new surroundings. I chose to place it in the corner of my living room where it would have a great view of my two children (Lucy age 3, and Livvy age 1 ) playing. It would also be able to see my dog (Chewbacca age 5) whenever the family was out.
Once up and running I installed the app on an iPad, iPhone and Android Tablet. The apps allowed my to control the camera from simple pan and tilt movement to taking photos or videos. Other features also included being able to switch to night vision if the picture became difficult to see. I used my iPhone at work to see (and hear*) my children playing, catching glimpses of them chasing each other and, on occasion, fighting with each other. I suddenly had a window on a world I thought I was destined to miss working through the day. The camera was so discreet, it was easily forgotten and I when I logged in I was able to see my girls play together, my wife gossiping and even my dog bark at passers by… and this was only within the first month.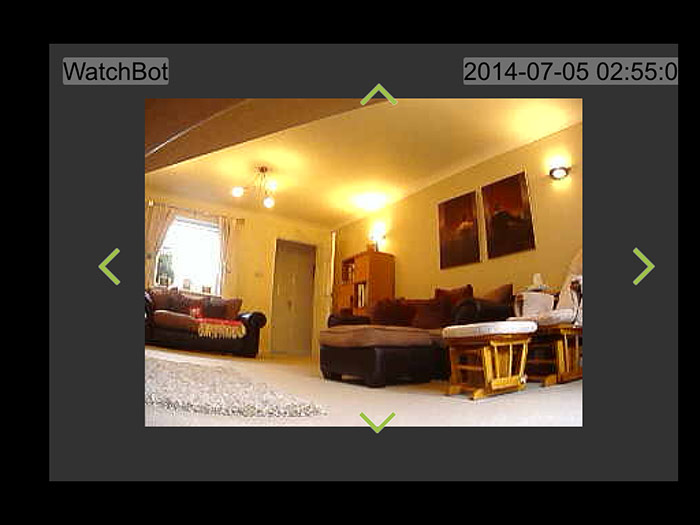 The fact that we could install the app on multiple devices meant that my wife could use it to keep an eye on the girls whilst she cooked, cleaned, hung up washing (and the other billion jobs she does). Emma simply set up the iPad on the side and was able to keep her third eye on the girls as they wrestled each other for prime position on the keyboard.
During this time, my family and I had a week in the New Forest (and Peppa Pig World). The camera gave us piece of mind as we left the curtains open day and night and could check-in periodically. The settings also allowed us to get an email whenever movement was detected. Although there was no movement during the holiday, it did tell me when people were in the living room upon my return. Weirdly, the Watchbot (or Robot as Lucy calls it) meant that Lucy could see our 'real home' from time to time whilst in the 'holiday home', helping her to grasp the concept that we had not left our home for good to live in the forest.
There are a myriad of uses for the Watchbot, of which I have only explored a few. The Watchbot would make a great baby monitor as well as a monitor for elderly relatives. Businesses may want to use it as an affordable solution to keep an eye on the office and pet enthusiasts might just want to see what Ginger does during the day.
Overall, the Watchbot is more than just a CCTV camera and more than a simple webcam, it offers piece of mind, a helping hand and brings me closer to my family. And anything that brings me closer to my family has to be good. Sure, it is expensive at £150 and some people who are not familiar with FTP and DNS might not be able to enjoy all its features, but if you want to feel closer to those you love or simply keep an eye out for family members, valuables or even pets then the Watchbot is a great bit of technology that works quickly and easily. Move over Big Brother, it's Big Daddy who is watching now!
Video Review
Win A Watchbot
—