This Year was the year of our first family holiday to a theme park. Well, a holiday with a couple of visits to a theme park anyway. Our girls as with many other thousands of toddlers are in love with Peppa Pig. As part of our morning viewing, the little 5 minute programmes are now a staple and called upon when we need a moment of peace.
We decided, based upon recommendations by friends that a great trip out was to Peppa Pig World. Poultons park however, the home of Peppa Pig, was too far to manage in one days round trip so we incorporated it into a weeks holiday in the nearby New Forest.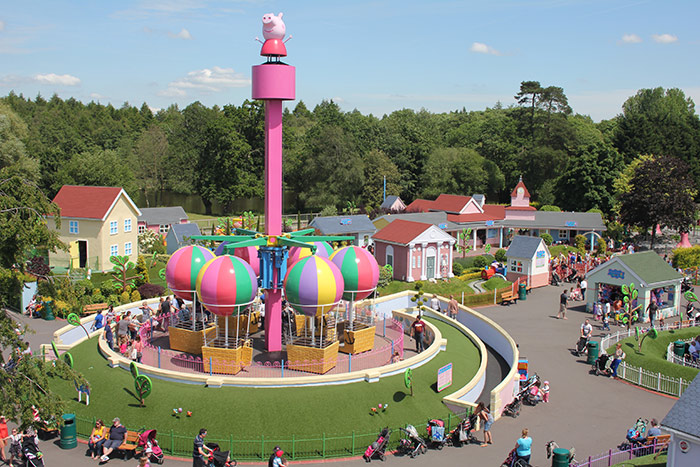 We pre-booked our entrance passes online, and chose to opt for a two day pass, costing a whopping £130 for our family , where only 3 were chargeable. Add this to the cost of food, towels to dry the girls with after splashes in the muddy puddles water park, and a couple of souvenirs, and our 2 days in Peppa Pig world ended up costing near to £250. Not a cheap form of entertainment, but well worth it.
Our eldest Lucy, who was 3 in March found the whole experience very exciting and was just about old enough to understand the need to queue to  get onto the rides. Livvy however, at 18 months found it impossible and although we were out of the school holidays, meaning that queuing time was rarely longer than 30 mins she was difficult to entertain whilst we waited, surrounded by scores of family in the same boat.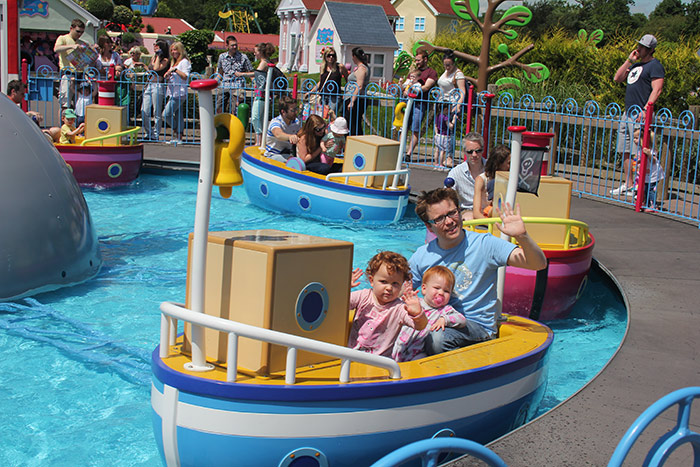 The best ride for us was Grandpa Pigs boats, a very gentle ride that saw 6 boats rotate around a central pole bobbing to mimic a sea like experience. Both our girls loved this and so did we as the queue was more or less non-existent. The other ride enjoyed by all members of our family was Daddy Pigs cars, a ride around a track where there was room for both girls to sit at  the front to 'steer' the car, an experience they thoroughly enjoyed. Less appealing us were the rides which raised us up to the sky, with a to air balloon ride. for my husband and I they were great but for Livvy, the spinning and the height were too much and she ended up screaming for most of the ride, children a little older would have enjoyed this much more.
The most enjoyable experience of the whole park, however was to be found in the muddy puddles. This was a water park where jets of water squirted from the ground and children could run in and out soaking both themselves and their accompanying parents… It was a chance for the children to be free and cool off and for parents to take a breather.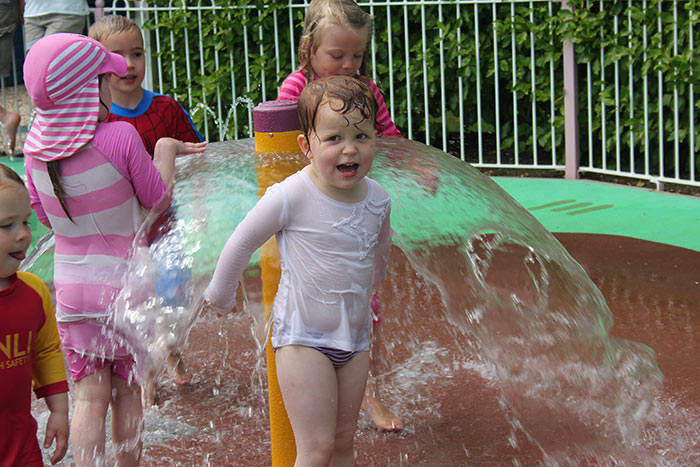 The trip to Peppa Pig World ended with an ice cream for all four of us followed almost immediately by two sticky, exhausted but very happy children asleep in the push chair on the return to the car park.
Well worth a visit, just remember a towel…