Cycling holidays are increasingly popular for families. If you and your kids are already into cycling, it's a no-brainer: take your beloved bikes abroad for better weather and more varied terrain.
Even if you don't cycle much at home (or at all!) there are still lots of reasons to consider a cycling holiday. It's a great way to get into cycling, which is the perfect shared hobby for an active family. Even if you take it easy and stay on the flat, you'll be in better shape at the end of a cycling holiday than you could ever be at the end of a beach holiday, and you'll have set your kids an active example. If the kids get bored by the pool, or you're sick of the tourist hotspots, cycling is a great way to get off the beaten track.
A successful cycling holiday requires a bit more preparation than a package holiday. You'll still need to cover the basics. Always check the expiry dates on your passports. Kids' passports go out of the date sooner than you think, because children's biometric info keeps changing. Double-check your tickets and your bookings. Prepare for flight delays.
On top of the standard precautions, you'll also want to think about these things:
Taking your own equipment
If you and your family are already keen cyclists, you'll probably want to take your own bikes with you. All the same, it's worth looking into bike rental. Areas which see a lot of cycling tourism have an increasingly excellent range of rental options available, which in many cases include equipment and insurance.
If nothing will you persuade you to leave your bikes behind, check them thoroughly before you depart. Replace tyres and brake pads, and take more spares than you think you'll need. You'll be cycling on different terrain and in different temperatures than you do at home, so your tyres and brakes might wear out more quickly. Pack repair kits, and because a repair kit is useless unless you know how to use it, make sure you can repair a flat tyre. Even if you've done it many times before, it's always worth brushing up, especially if it's been a while. There are handy instructional videos on YouTube.
Remember that a helmet is useless after an impact, so you'll want a spare for everyone. Pack helmets carefully so they don't suffer an impact during the journey. High-visibility vests and spare lights are essential. Bring a first-aid kit, and check the contents before you pack it.
Preparing for the weather
The chances are that you're going somewhere warm. That's what makes it a holiday! Don't count on the weather being perfect every day, though. When you're on your bikes you're exposed to whatever the weather throws at you, so be prepared. Focus on removable layers, because they're easier to carry when you're cycling and they give you lots of options.
Hopefully, you will have perfect weather. Prepare for that too. Pack extra suncream. Remember that sweat washes it away, so you'll need to replenish more often than you would at the beach. Sunglasses are absolutely essential. The glare from the road on a hot day can cause severe headaches and long-term eye damage.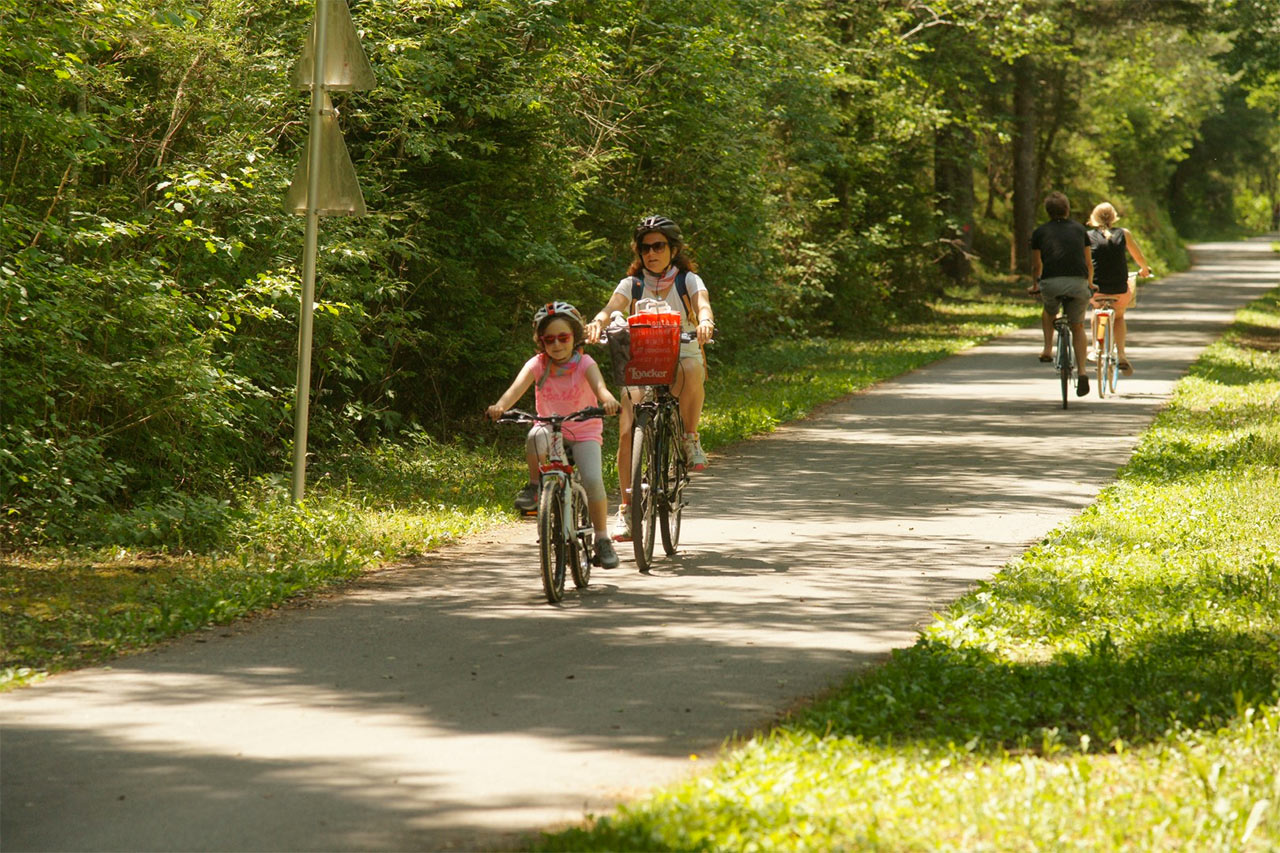 Compare your expectations
Even if everyone in the family is a keen cyclist, you won't necessarily have the same idea of what makes for a fun cycling holiday. If one of you is looking to beat a personal best, they're going to be frustrated when someone else wants to stop and look around a heritage site. Make sure you're all on the same page before you start planning the details of your trip.
Bring a map
GPS navigation has made cycling trips much easier, but don't rely on it. You don't know what your network coverage will be like abroad, especially if you're planning on visiting more remote regions. It's also all too easy to miscalculate your battery life, lose your phone or have it get so hot it needs to shut down. Mark your intended route on good old-fashioned paper maps before you leave, and bring them with you.
Pad your bum
Seriously. Even if you're not planning to do much more cycling than you do at home, it could easily be enough to bring on discomfort. Invest in padded shorts if you haven't already, and bring chamois cream. Hands and feet are other possible hotspots. Make sure everyone has comfortable cycling shoes and gloves. Blister plasters are a great addition to the first aid kit.
Train
However leisurely you're planning to be, don't think you can suddenly do a lot of cycling without working up to it, or you'll get injured. Work out the longest cycle you expect to do during your holiday and make sure everyone in the family does that distance a few times before you leave, and ideally a couple of days in a row. If that distance is much longer than you usually cycle, then work up to it!
Getting Insured
If you're renting bikes, the chances are you can arrange insurance through the rental company. If not, make sure you're covered against any damage to your bikes. If you're cycling in Europe, make sure everyone in your family has an up-to-date EHIC card. Outside the EU you'll need insurance that will cover your medical expenses if anyone in the family gets injured while cycling. A lot of standard travel insurance plans don't cover activities like cycling, so don't forget to check the small print.
Claiming compensation for injuries
Cycling can be dangerous, and no matter how well you prepare there's always the risk of injury. Legally speaking, when you cycle you accept a certain amount of risk, but if you're injured through someone else's carelessness, then you might be entitled to compensation. If you find yourself in this situation, there is plenty of free advice available on how to make a claim for a cycling injury. Alternatively, speak to an accident claim solicitor who can advise you on the steps you'll need to take.