Air travel means that in a few hours we can make a trip that would have taken our ancestors weeks or even months. But when your flight is delayed and you're stuck in Departures, it can feel like your journey is taking forever. Sadly, not all of us can afford the cost of a private jet so will find ourselves using one of the bigger commercial airlines, maybe one day! These days most airports offer lots of distractions for the grown-ups, in the form of cocktail bars, luxury stores, and even day-spas, but provision for kids is often more limited.
If you're flying with the family it's a good idea to prepare for a delay. Pack your children's favourite distractions in your hand luggage, whether it's a colouring book or the iPad. A travel pillow is a life-saver if your delay extends all the way to nap time, and if you have space, a change of clothes might come in handy too. After taking a nap or getting sweaty running around the airport, some clean clothes will help your kids feel fresh and comfortable before they board.
No amount of preparation can get you safely to the other side of a monster delay, though. Here are a few tips for keeping the kids amused in Departures.
Explore the airport
As an adult, especially if you fly a lot, it can be easy to forget that an airport is actually a pretty exciting place. It can even be magical if you use your imagination. Show your kids the list of destinations on the Departures board. Challenge them to name which country each destination city is in. Ask them where they would like to go, and why. What food do they eat there?
There are always a few places in an airport where you can watch the planes take off and land. You can usually get a pretty good view from the windows over your gate. Show your kids the luggage trolley carrying your suitcases to the plane. Don't overlook the classics. With all the unusual sights and the machines to-ing and fro-ing, an airport is a perfect place for a game of "I Spy."
Use the space
Unless you're travelling at one of the year's peak times, there's usually a lot of empty open space in an airport. If you can find some space, you can play physical games with your kids or just encourage them to run up and down a bit. The more tired they are on the plane, the better! A section of floor space, so long as it's out of the way, is great for getting stuck into some arts and crafts. If you haven't brought them with you, you can buy colouring books and pens or crayons at most airport stationers. You can carry nail scissors in your hand luggage, or buy them in Departures. If you haven't brought any materials with you and you can't find any in the airport stationer, you can still buy magazines for your kids to cut and stick. Be careful to keep throughways clear, and be considerate of other passengers.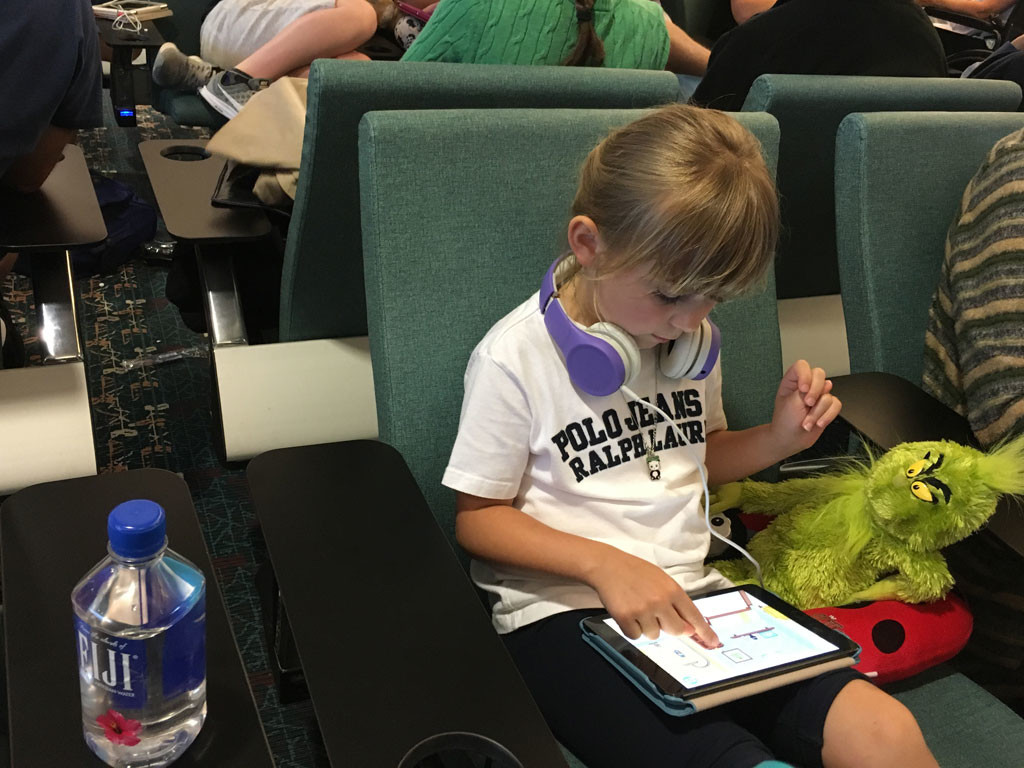 Screen-time
A lot of airports offer free wi-fi, although some only for a limited time. While you've got wi-fi, your kids can play their favourite games on a phone or iPad. Airports are a great location for Pokémon Go. It's safe for older kids to roam about, and most airports are well stocked with gyms and new Pokémon for them to capture. Lots of airports have social media accounts, especially on Facebook or Instagram, where you can find updates on things to do in the airport and the occasional special offer.
See what the airport has to offer kids
If you have a layover in an unfamiliar airport, it's well worth checking an airport map or asking an attendant whether there's anything for kids to do there. You might be surprised. Changi Airport in Singapore has a room dedicated to arts-and-crafts and a free cinema with four separate screens. Kuala Lumpur International goes one better with an indoor rainforest for kids to explore. San Francisco International has a roving squadron of therapy animals to help calm anyone who's nervous about flying (but they won't mind if your kids aren't nervous flyers!)
These airports are exceptions, but lots of airports these days have a designated play area for kids. Other airports have miniature museums exploring the history of air travel or the history of the country they're in, which might be interesting to older kids. Lots of airports have shops for kids, too, like toy shops or the Disney Store. Airport shops tend to be high-end, so they aren't cheap, but depending on the country you're in or the currency you're using, you might be able to buy the occasional item more cheaply than you can at home.
Eat
Airport dining is still expensive, but it's gotten a lot better in the last few years. There's a lot more range, and usually a few specialist kids' menus and decent healthy options to be found. You might find that the extra expense of eating at the airport is worth it, especially if your kids are fussy eaters. Let's face it, airplane food isn't great, and even if you buy snacks for the plane, they won't taste so good at high altitude.
Take it in turns
To survive an epic delay, you'll need to take breaks. If you're travelling with your partner, take it in turns to keep the kids entertained while the other one gets some rest and watches the bags. You can keep things varied and lower your kids' energy levels a little by splitting the kids up, too. After a while with Mum or little bro, a bit of time with Dad can feel like a new adventure.
Getting compensation for your delay
As well as being a nightmare, a flight delay can also disrupt your travel plans and cost you money. If this happens to you, it's a good idea to speak to a legal expert, who can advise you whether you're entitled to compensation for your delay.