[dropcap size=big]T[/dropcap]he title is going to leave a lot of you a little confused. First is the confusion that there was even a sequel to Cinderella in the first place. Surely 'happily ever after' doesn't need a sequel, and to be honest, that is what I originally thought but over time I came to enjoy Cinderella 2: Dreams Come True. The third installment, however, disappointed me.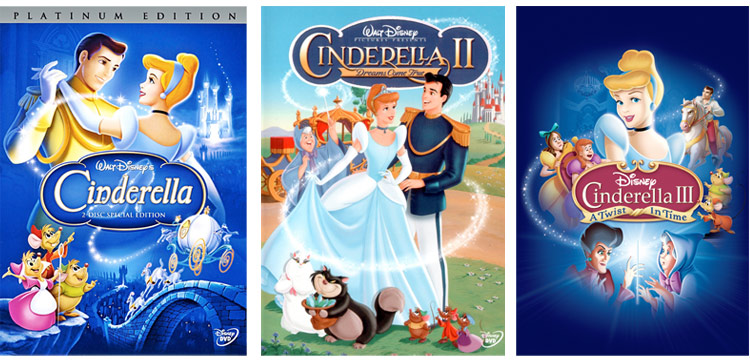 Cinderella
The original and the best. My eldest (age 3) loves this movie and it must have been on over 100 times. We have it on DVD and digital download in order to have access to 24hrs a day. The film is ideal for small children as it is filled with heart warming songs and comedy capers. There is very little to scare children here as the step mother's parts are short and sweet and when Cinderella is upset, it is soon rectified by the whip of a wand. This is the ideal movie to start a life long obsession with princesses.
Age: 1+
Cinderella 2: Dreams Come True
I'm not sure if this can truly be called a movie as really it is a collection of three stories brought together under the guise that Cinderella's mice want to make a book for Cinderella. The stories they tell are about their first day in the castle (after Cinderella's and the Prince's honeymoon), a story about when Jacque Jacque was turned into a human in an attempt to help Cinderella more and finally the story of when Cinderella helped her step sister Anastasia fall in love with the Baker. At first glance these tales don't sound to appealing but after a few sittings I realised that they were harmless and still encompassed the essence of the original. There is no scary moments, the songs are light hearted and they appeal to the little girls who want to see more happy stories of their favourite princess.
Age: 1+
Cinderella 3: A Twist in Time
What if Cinderella's step mother managed to stop Cinderella going to the ball? That is the question that is answered in Cinderella 3 as Cinderella's evil step mother steals the fairy-godmothers wand and changes the past to make sure Cinderella and the Prince never meet. As Cinderella's world is turned upside down true love still draws her toward the Prince and they must re-kindle their lost love. To be honest, even though the production values are higher than the sequel it doesn't have the warmth of the other two. The adult themes of changing history and a more visually evil step mother is not really suitable for a younger audience. Whilst the story might appeal to older girl, I feel they have lost some of the qualities of Cinderella and made it unwatchable for young girls eager to see more Cinderella.
Age: 4+
Through my girls I have learned to love Cinderella and whilst we watch her in Sofia The First and other Disney production I would say the the first two are great for young ones but you might want to watch the third movie first to make up your own mind.
Movie Review: Disney's Cinderella Trilogy
Cinderella is the original and the best and whilst my daughters are very happy to see her in sequels, the third installment seemed to forget their target audience.