Everyone is in a rush these days. From trying to beat the estimated arrival time on your sat nav, to using next-day delivery for everything and anything. In this hectic world, very few people take the time to go that extra mile to make others feel special. When these rare moments happen it can lift a person out of the humdrum and really impact their lives, if only for a short time. In the spirit of sharing good vibes with all, I wanted to look at five occasions in which 'getting personal' can make all the difference.
When hearing a Person's Name
It sounds simple, but so many of us are guilty of simply saying hello and completely forgetting a person's name. In his world-famous book 'How to Win Friends and Influence People', Dale Carnegie stated that "a person's name is to that person the sweetest and most important sound in any language". In Business, leaders it is crucial, as potential clients might see someone who can't remember names as the same as someone who can't remember significant parts of their business. The two-step process I use is first to remember a time/feeling in which someone has forgotten your name to give extra importance to the moment. Then I try and visualize that person standing next to a celebrity, friend, or object that has the same/similar name in order to make that association in my mind.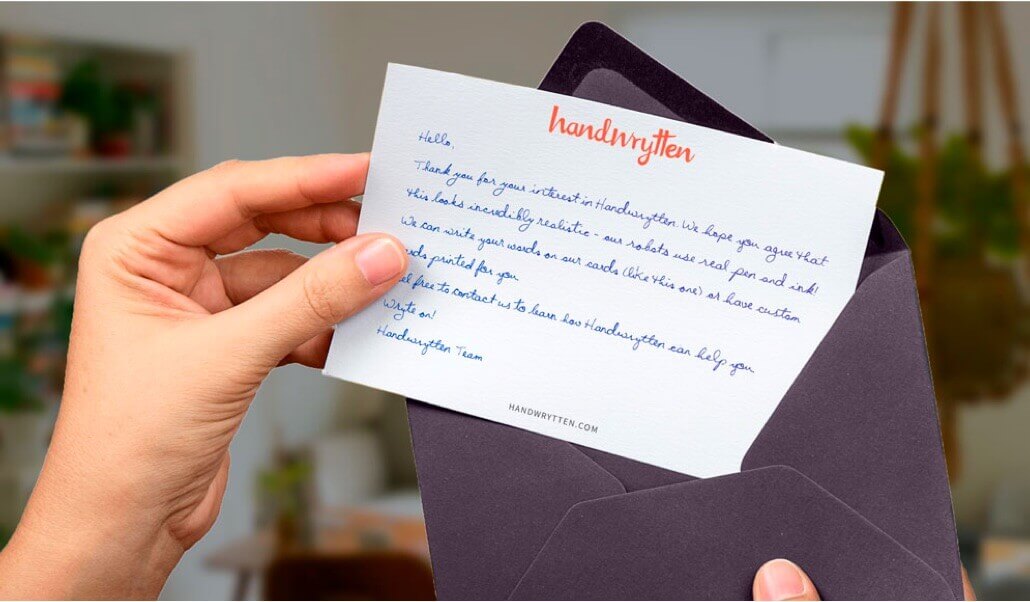 When Saying Thank you
Thank you is such a powerful word. Being thankful means you are truly grateful for the things that happened to you as a result of someone else's effort. Showing gratitude is a great sign of respect for another person, for their time and presence in your life. When you say 'thank you', people get a feeling that they have done something to help you. This gives them inner happiness.
Gratitude is also a great motivator, as people feel they are appreciated and praised. This may even encourage team members at work to go the extra mile for you. Personalized thank you cards are always appreciated more than an e-mail. In a sea of bills and bank statements, a handwritten name and address on a card stand out above the rest and the excitement and anticipation feel amazing. By using handwritten thank you cards for clients (and potential clients) you are able to make a human connection which is extremely important and has a more significant impact on them.
When Choosing a Gift
I have been guilty in the past of choosing gift cards or cash as a gift. I convince myself that they could choose something better than I could, but ultimately I am delegating the opportunity to make them happy and missing the point of getting someone a gift. Taking the time to really think about someone and get them a gift that demonstrates that thought, adds value to the gift itself. A mug is just a mug, but if it has their favorite team on, it shows more thought. Similarly, if you take a photo (from your amateur photographer friend) and get it blown up on a canvas, it shows that you have really thought about them. A considered gift connects you to a person on a whole different level. A book is a fine gift but a children's book of your that person's favorite movie to read to their children shows that you have really thought about them.
When Promoting An Employee
For many people, being promoted is a grand occasion. It's a milestone in which they have worked hard, hit their targets, and excelled at their craft. As such, a quick email saying that you have been promoted to X and your new salary is X can be a huge anticlimax and demotivator. A promotion is a great opportunity to outwardly show your gratitude, motivate the whole team, and start the employee off in a new direction. When promoting a team member it is important to do it in multiple stages. Firstly, you sit down with them and personally thank them for their contribution to the business and the team. By listing out specific examples, you demonstrate that the decision was well-thought through. This is a great opportunity to discuss additional responsibilities and ask them for help on a leadership level. Following the face-to-face, it is good to share it with the wider team and celebrate his impact on the team. Finally, an official 'hand-written' letter to his home thanking them and outlining the details of their new role. This will act as a trophy and trigger positively amongst the team member and their family who are usually very influential in career decisions.
In a world of quick emails, instant messaging, and next-day delivery, it pays to take some time to capture and make the most of the micro-moments. Remembering a name, sending a handwritten thank you card, personalizing a gift, or taking the time to talk to someone are small actions that make a huge impact.