If you have the space and the time to do it, creating a playroom for your kids can be a hugely rewarding experience. Not only can you create a space where your children can be safe, but it can also be a place where their imagination can run wild, and where you can have dedicated areas for their favorite activities.
Creating such a space, however, can take time and a lot of thought. Here are some practical ideas as well as creative inspiration to help you create a kids playroom they'll cherish.  
Where Will You Build the Playroom?
One of the first considerations is where your new playroom is going to be located. You need it to be somewhere that is fairly spacious, so your children have room to play a variety of different games. You also want somewhere that's going to be safe for them to play and easily accessible to other areas of the house.
Some people choose to have their playrooms in their basement or in the attic. While this can be a good idea, it can also present its own problems. The biggest issue is being able to check in on your children and ensure that they are safe and playing well together. Plus, there is the cost of implementing such a conversion.
When deciding the location of your playroom, you also want the room to be somewhere that is separate from the bedroom. This is because you don't have to worry about where to place the bed. Plus, your children will then associate the bedroom with sleep, improving their bedtime routine.
Create Distinct Activity Areas
You might often hear your children say they are bored, and this can often be the time when they move from one activity to the other quite quickly. For that reason, you have to think about what activities will happen in this playroom and prepare a separate area for each one if possible. For example, you might want to have an area with a television and a computer or console so that they can play computer games. You might also want to have a separate area with plenty of floor space in case they want to play cars or trains.
In many ways, you'll be guided by what your children want to play, and as they get older, you may want to adapt this in any case. Older children and teenagers might not want to have floor space for playing trains but instead a couch area where they can sit with their friends and chat.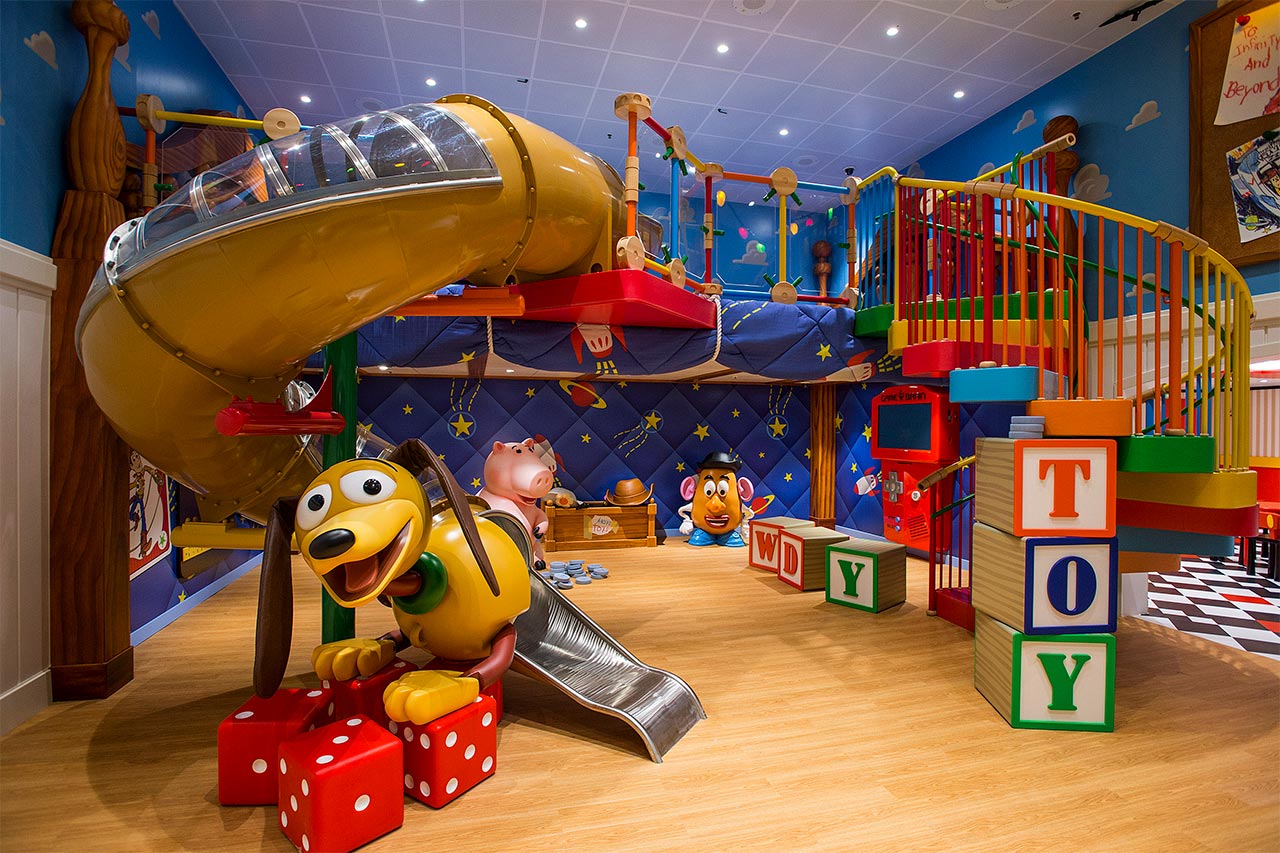 Add Plenty of Storage
If there is one thing that children have, its lots of toys, games, and books. This means that if you're going to have a play area or a playroom, you need to have as much storage as possible to keep all these things. It might mean you have to be slightly creative with your storage space, especially if the room itself isn't very large. However, it can be a great way of keeping all their toys and games in one area and leaving the rest of the storage space in the bedroom for clothes. Make sure you have plenty of storage space for books on the walls, and perhaps some pull out tables they can use for artwork. For younger children, it can be a good idea to put pictures on drawers and cupboards, so they can see at a glance what's in there with the corresponding name next to it.
Adding Color and Characters
Your child's playroom should be above all else a fun place to be, so, you want to make it as colorful and attractive as possible for them to stay in it. To achieve this, add nice bright colors to the floors, the walls, and also to the accessories within the playroom such as cushions and sofas. If your children have a particular interest such as pirates or fairies, then you can always try to incorporate this into their playroom decor. You can try adding some rope or perhaps some brightly colored sparkling wallpaper to add some texture and interest to the room.
Tip: You can also think about painting their furniture to match the room, but it should be noted that if they grow out of this particular theme, it needs to be easy enough to transform into something else.
Safety
Above all else, you want this room to be safe for them to play in without the worry of monitoring them all the time. This means you need to look carefully not only at the room itself but also with the furniture and fittings you're adding to the room. For example, if your windows are too large or you want to add new windows with safety glass, then this can be a sensible idea. You can read more about replacing your windows online.
You need to think about the accessories in the room and how they will be safe for the activities you're planning. For example, if it is going to fit a basketball hoop in the room, you need to make sure that the lights are covered, so they can't be broken.
Educate as Well as Entertain
As well as being a functional play area, you should take the opportunity to make it educational as well. This can include putting a map of the world on the wall and giving them stickers where they can mark places they know, and places they have visited. Posters of the world, the periodic table and the times tables are great ways to decorate but also educate your kids. Seeing these posters all the time will help your children to remember the facts while also encouraging them to continue learning, even outside a school environment. As well as this, of course, you can also have books within their library area to help with their homework or for revision.
Creating a dedicated space where the kids can play and learn will be beneficial not only to them but also to you. You have somewhere you know the kids can be safe, and it means they can get plenty of stimulation from their educational books and improve their studies.