When it comes to children's games, not many indie developers have such an extensive back catalog as Beansprites, a small team from California who have covered cafe culture to dentistry is their myriad of colorful games.
1. What made you want to make games primarily for young children?
The decision to make apps for kids was something that just occurred organically – I've always been a fan of all genres of video games, and I especially loved light-hearted platformers such as Castle Of Illusion: Starring Mickey Mouse for Sega Genesis, that could easily qualify as a kiddie platformer.
I was also no stranger to playing games like "Putt Putt goes to the Moon" – which was a 2D point and click learning game for kids. I would experiment with all genres, but the kids app genre is always what appealed to me the most, and also where ideas came naturally.
2. Do you approach children's game design in a similar way to adult game design, or is the process different?
A majority of the applications you see in my portfolio are geared towards the very younger age group, probably starting at 3 and up. I approach game design in a similar way for the majority of my apps – encompassing a very intuitive user interface where even a 3 year old could pick up and play the game without any assistance from a parent or teacher. I've even had reviews where parents have stated it was easy for their kid to get started, and they didn't require any help. That is my goal for the initial experience – of course, keeping them engaged for long periods, and having them come back to my app over and over is another very important goal in game design – especially for kids of a younger age bracket who tend to have much shorter attention spans than the older kids and "tween" crowd.
3. What game style or type have you found to be most successful in your experience?
It's difficult to pinpoint one genre, because it changes all the time depending on what consumers want to play – basically I study what is trending in the app store in terms of popularity and try to design an app with a twist, and add more unique features to that app that will make it stand out from the rest. In previous years, food apps have been very popular, but the focus has changed to other app genres, and adapting to that change is crucial to success.
4. You charge a minimal amount for your games, why did you chose to avoid the free to play model?
For the paid model, 0.99 cents is the most I will charge for my apps given their content and genre – namely that they are geared towards kids – I've avoided the free to paid model for Nook & Amazon, but institute iAP for iOS – Each App Store is different in terms of what works, and I may institute a free to play model for Amazon and Nook in the future.
5. Which platform do you prefer to make games for and why?
I enjoy working with all platforms – I always prefer iOS as I prefer their operating system, but Android is a market that is booming right now – I think it's very important to consider all markets, even obscure ones that you think may not be successful.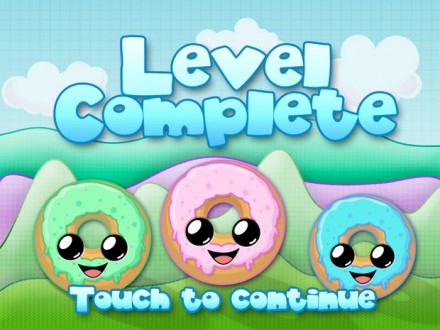 6. Do you have any game development tips for those looking to make games for children?
One tip I have is if you're making educational games for kids, go read up on some activity books you find in the kids section at Target, or Barnes & Noble – buy a few of those, and study those activities, and try implementing them into an app – there are endless possibilities for educational apps in the app store, and apple is always looking to feature new and innovative products!
If you have a unique art style, that also helps – games from developers like Duck Duck Moose, and Toca Boca have a very unique art style, and branding that you would recognize immediately if seen on the app store.
7. Which game has been your most successful to date and why do you think it was so popular?
One of my initial, and most successful games that propelled me into doing this as a full-time business was "Fairytale Preschool" – this was a very basic, kids educational app for iOS which featured activities like finding the right color bottle, counting games, memory matching etc. This one was featured by apple under New & Noteworthy, and reached the top 100 games on the app store. It also reached the top 5 position on the education category all by itself, without any marketing.
Of course, fast forward 3 years later to present time, and this kind of app would never have achieved the success it did back then.
8. What channels do you market your games on and which drives the best results?
I use Facebook, Twitter as the primary marketing outlets. There are also ad campaigns that you can run to drive installs to your apps, but they work better with free models for applications and games. Free App of the Day is another good example of marketing, but they charge a pretty penny for their services.
9. Like many game designers, do you have a BIG game in you which you will eventually build?
We are currently working on a 2D adventure game which will be released by next year – that is the big game that I've always wanted to work on, and it's the biggest, most daunting project I've ever worked on to date.
10. What title(s) do you have in development at the moment?
At the moment, we are working on the 2D adventure game, full steam ahead! I also still make time for the kids apps, and if I see something trending, I will work on a piece for the app store. The holidays are coming up, so holiday themed apps are also in the works!
Finally, what would you say to your younger self when she first started creating games…
Be prepared for many sleepless nights, and long work hours! 🙂
For more information on Beansprites games and apps, please visit http://www.beansprites.com