Vancouver is an incredible city that's perched on gorgeous water and surrounded by mountains.  With the perfect mix of being an artist-heavy city and a tech hub, Vancouver has something for anyone who visits: especially if you love shopping.
This is the rundown on Vancouver's shopping scene!  Every area on this list is a lot of fun and is approved by both locals and tourists.  
What You'll Need for Your Shopping Journey
Before you visit any of these shops, it's a good idea to pack a small bag of essentials.  Most of these will fit in a large purse or small backpack.  For your feet, wear some good tennis shoes that are comfortable and broken in.  There's a lot of walking in each of these areas, and if you neglect your feet, you might get worn out before you get to hit all of the stores you want.
Pack some water for yourself, some sunscreen in case you're in one of the outdoor shopping areas, and some small snacks in case you have trouble finding a restaurant you want.  These areas are a lot of fun to shop in, but make sure that you keep an eye out for deals!
Pacific Centre
Pacific Center is a mall that's shown that the era of the shopping mall isn't over yet!  Offering fun stores ranging from American Eagle to Weekend Max Mera, you can enjoy a great mix of affordable and high-end shops.  The restaurants range from sushi to pizza and offer fantastic prices and delicious flavors.
Although this is one of the oldest mills in the city, it's still going strong with a great mix of entertainment and shopping available.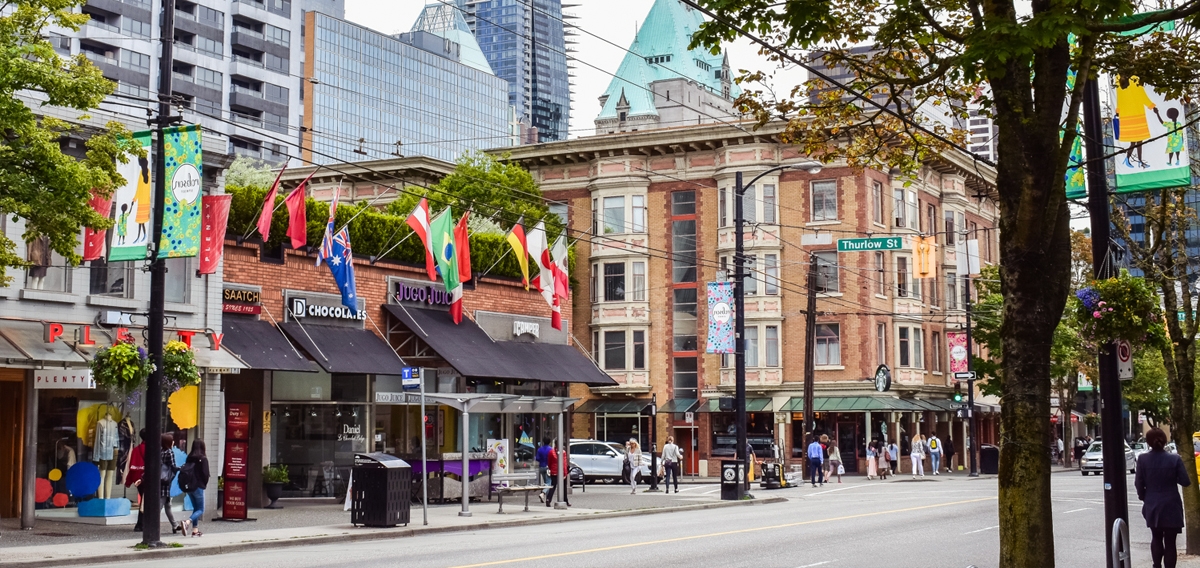 Robson Street
If you want high-class dining and eating: Robson Street is the place to go.  Every restaurant has at least four stars on every major rating site, and although the prices are steep, the experiences at restaurants like Cincin make it worth every penny.
The shops here offer everything from fancy self-care boutiques to fun quirky bookstores.  Although this area has the most expensive homes for sale in Vancouver, you can easily drive in and spend a day in luxury.
Waterfront Centre
If you want a heavily curated shopping experience, Waterfront Centre is the place to go.  With 25 convenient and fantastic shops and a dozen eateries, you can enjoy traveling between Howe and Cordova as you shop for all of your favorites!
Every store here has enough to go through that you could spend an entire day in the Waterfront Centre without getting bored!
Burrard Landing
At the heart of the tourist district, Burrard Landing is a fun little shopping and restaurant area that you could never get tired of.  Beautiful waterway views play against the modern architecture of local shops and impress everyone who gets to visit.
All of the stores here are a good range between expensive and affordable, and although the buildings are modern and sleek, you can still find comfort food at restaurants like Jack Poole Pizza!