Britain is warming up at last! After a dismal, wet winter and the ravages of the Beast from the East, the sun has now started shining, the birds are singing, and the grass is starting to grow. Summer is just around the corner, and Dads all over the country are looking forward to getting the barbecue fired up.
It's become a bit of a cliché now that men take charge of barbecues even when they don't cook at other times. It's been put down to a kind of primal, hunter's instinct to provide fresh meat for your family, but whether you think that theory holds water or not, it's certainly true that Dads love their barbecues.
Equipment check
If your barbecue has been gathering dust in the shed or garage over the winter, you need to get it out and give it a thorough clean, making sure everything looks sound – no rust or mouse damage – before checking to see if everything still works ok. If you've got a simple freestanding grill that just uses charcoal, with no electrical cleverness to it, all should be well, and a bit of elbow grease will soon have it sparkling again. If you've got a full-on gas burner style barbecue, then you'll have wires, cables, gas supplies and suchlike to check too, and you need to do it well in advance of your party in case you need to get anything fixed or find spare parts.
If you have the budget and are likely to make good use of it, you might want to consider getting a new barbecue – maybe an upgrade from your old model. The range of barbecues is now extensive, so pop down to your local garden centre and see what catches your eye. Because barbecuing is such a simple way to cook, there's very little else you need to worry about, so make sure you've got things like kebab skewers and corn on the cob forks, and you're all set.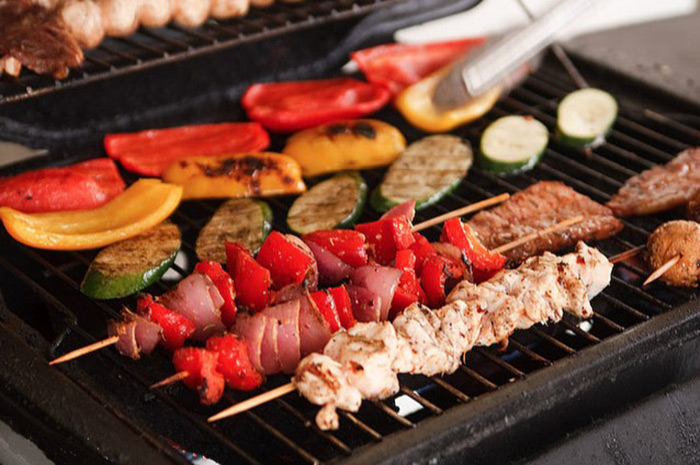 Planning the barbecue
Every year you'll hear about people getting food poisoning from undercooked meat, or meat that wasn't safe to eat. There's usually a TV ad campaign to remind you to cook your sausages for long enough too, but as long as you follow two golden rules of food safety, you shouldn't have any problems.
Firstly, keep all your meat and other perishables chilled until you're ready to cook. Put everything in a cooler rather than risking using plates or trays, because there could be a fair few hours between the first chicken wings going on and the last. Also, if you're using frozen meat, make sure it is fully defrosted before cooking. If you're not sure which cooler is the best one, have a look at some online review sites to read up on how well they perform and what previous customers think of them.
Don't forget to keep your meat separate from ready-cooked food and food that won't need cooking, to avoid any risk of cross-contamination. When you're cooking, make sure the charcoal or gas is producing an intense heat rather than a lot of flame, and check that everything is cooked through so there is no pink meat, and juices are running clear.
A family barbecue is a wonderful way of spending a fun-filled summer evening with your nearest and dearest, and if the sun keeps shining there'll be many barbecue days ahead.