Being a gadget-loving father, I have seen many gizmos come and go. I was around during the last two Virtual Reality booms and sadly, they both fizzled into oblivion. In 1989, the term 'Virtual Reality' was coined, and by the early nineties there was a handful of VR terminals and a hit movie (The Lawnmower Man). As the nineties progressed we saw Sega VR, The Nintendo Virtual Boy, and the Jaguar VR; all bombed. So you will excuse me if I was a little hesitant when VR reared its headset once again.
Then I got my hands on the Vizor Virtual Reality Headset.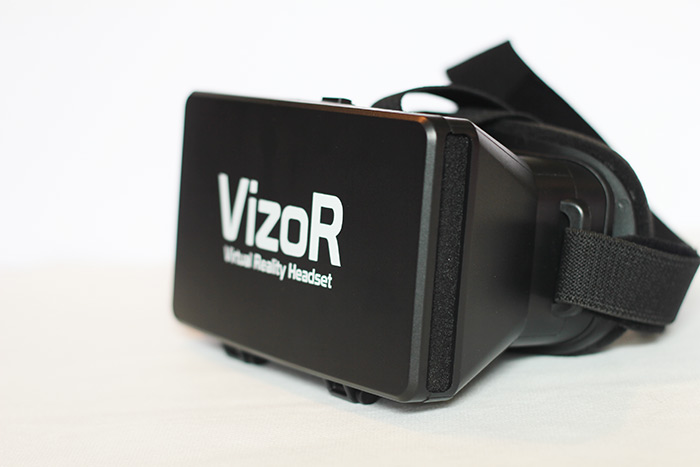 I can't deny that when I saw the Oculus Rift, I was intrigued, when I saw Morpheus (now Sony VR) I was curious and when Microsoft showed off its Hololens I could feel myself being tempted back into VR. All of these, however, are in development and not readily available, so I quietly added them to my 'fad' pile of tech and moved on.
It all changed when I got the Vizor VR Headset from Red5. Straight out of the box, it looks the business as it is smooth, black, and lightweight. You simply pop open the front and slip in your smartphone. The spring-loaded grips are fine for the most popular models of both Apple and Androids so you can get up and running very quickly. The top and side straps can be easily adjusted to most head sizes (even small children ) and there are controls above each eye socket to move them closer for further apart depending on how inbred you are.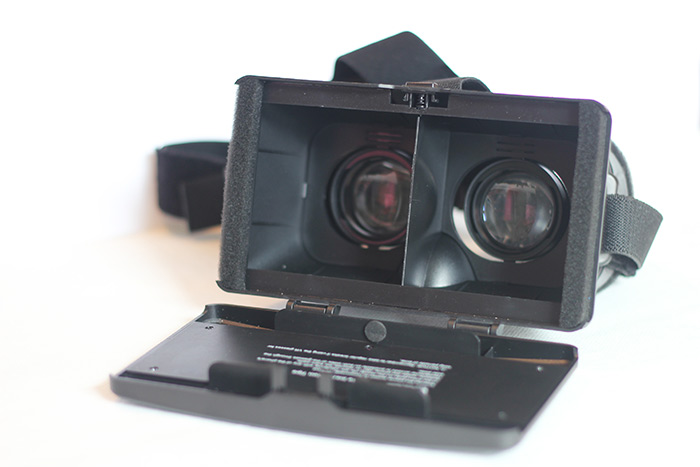 Once you are fully dressed for the virtual world there is a multitude of experiences waiting for you. Within minutes I had apps that took me under the sea, flying a stunt plane, walking through Jurassic park, and being scared witless by the Goosebumps monsters. Moments later I was on YouTube scouring the 360 videos section and enjoying surfing, feeding rhinos, and playing with puppies. The combination of the blackout headset, near-zero latency, and a wealth of content blew me away.
Within 48 hours the headset had pulled from pillar to post and stood its ground. My two children conducted the stress tests by pulling it, dropping it, and generally fighting over it, whilst I took my time to enjoy various 360 movies on YouTube, fighting the urge to search for 360 video porn. The Vizor VR headset feels solid and well-made for the price and it is comfortable to wear and easily adjustable.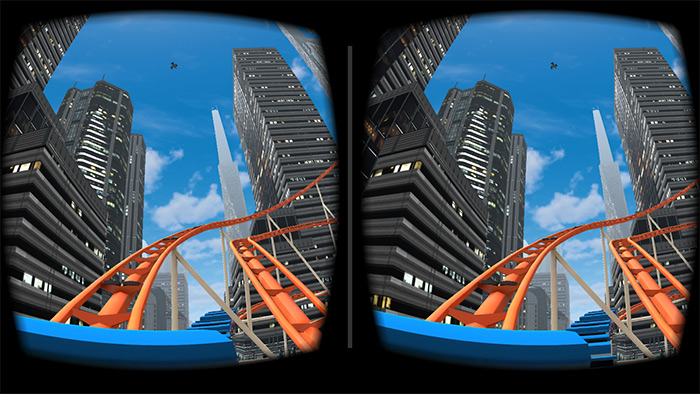 Overall, the experience was so much better than I was expecting and for only £20 this would make a great fathers day gift, as it is decidedly cheaper than the Oculus and Sony VR. After showing it off to family, friends, and colleagues I could sense a renewed respect for VR, and for me, it has definitely re-ignited my excitement for virtual reality.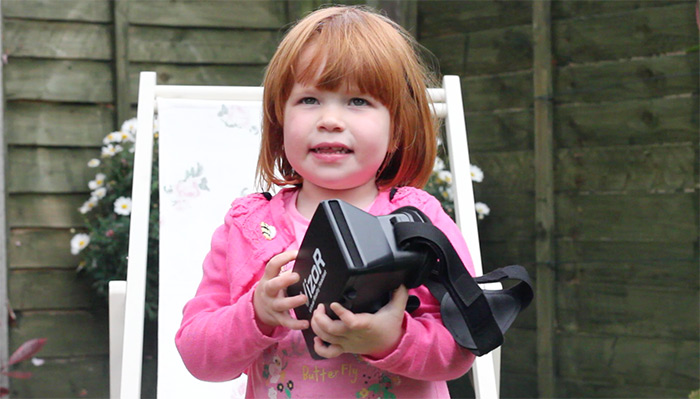 Key Questions About The Vizor Virtual Reality Headset
What is a virtual reality headset and how does it work?
A virtual reality headset is a device that allows users to immerse themselves in a computer-generated environment. It works by displaying different images to each eye, creating a 3D effect, and using head tracking technology to adjust the image as the user moves their head.
Is the Vizor Virtual Reality Headset safe for children to use?
Yes, the Vizor Virtual Reality Headset is safe for children to use. It has been designed with children in mind, with features such as adjustable head straps and durable construction. However, it is recommended that parents supervise their children while they are using the headset and set time limits to prevent eye strain.
How does the headset connect to a computer or gaming console?
The Vizor Virtual Reality Headset does not connect to a computer or console. This headset is for mobile phones only.
Does the Vizor Virtual Reality Headset come with any games or apps?
No, the Vizor Virtual Reality Headset does not come with any games or apps. However, there are many virtual reality apps available for download online that are compatible with this type of phone-enabled headset.
How much does the Vizor Virtual Reality Headset cost?
The price of the Vizor Virtual Reality Headset varies depending on the retailer and any sales or promotions that may be available. The phone version was around £30-40 at the time of writing.
Are there any age or weight restrictions for using the Vizor Virtual Reality Headset?
The Vizor Virtual Reality Headset is designed for children and adults of all ages. However, the weight increases based on the phone inserted.