[dropcap size=big]G[/dropcap]adgets litter my house, in a vain attempt to bring the future promised to me in the movies, that little bit closer.
From the latest consoles to thermostats that learn your routine, I have embraced this technological future and I drag my wife kicking and screaming into the 21st century. Some tech, however, sometimes slip the net and manage to get her seal of approval. The iPad was a huge hit and now it barely leaves her side she has admitted that since getting Apple TV and Netflix we rarely watch scheduled television anymore. Plus, having TV on demand was very useful when having small babies to care for through the night.
But with TV, Games consoles, BT Vision, Apple TV, and stereo there are a lot of remote controls building up in our living room. One of my biggest gripes with the Xbox One originally was the lack of remote control. It touted itself as an entertainment system that would take care of all the music, movies, games, and apps all in one place. Many liked the idea of this but having only a game controller or voice control to change between then put a lot of people off. Finally, after nearly five months, they released a remote. Whilst this is great news, I can't have yet another remote to find and fight over.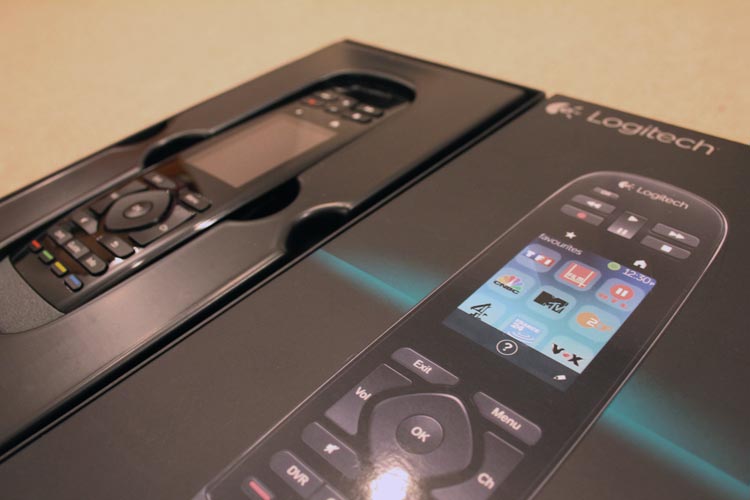 Then I discovered the Logitech Harmony Touch
During my search for a remote control that worked with Xbox One, I kept coming across the Harmony, which, despite its price, was getting positive reviews all around. It boasted control over 15 devices, a touch screen, and a fully programmable interface to add your favorite channels or commands to. It really was, one remote to control them all. The sticking point was the cost, £150 is a lot of money for any tech but to spend it on a remote control was going to be hard to get past the boss. After weeks of tossing and turning, I decided it was better to beg forgiveness than ask permission. Once it arrived I had to sell the benefits quickly:
it controls everything
quick launch buttons for all your favorite channels
fully rechargeable so no more batteries
it will work with future TVs and tech as well.
When it was finally in my hand I could also 'feel' the benefits as well. The design is sleek and stylish and it feels solid and well made. The touch screen is surrounded by around 25 buttons which work well. however, given the choice, I would have the play, rewind, forward, etc nearer the bottom and not the top as it would feel more natural. The back is ergonomically designed to fit the palm of your hand as well as being rough for extra grip. It's only a small feature but a nice touch.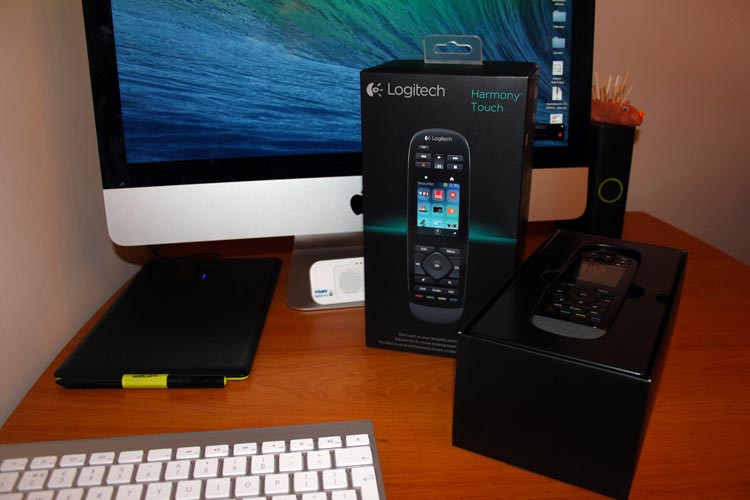 The remote comes with its own charging dock and USB cable, one for simple charging and the other for updating and syncing.
Set up of the remote was a mixed experience. Getting Silverlight up and running on my Mac was a slower setup than installing normal programs and once working the sync hung. After searching online for a fix I rebooted the remote and it worked like a charm.
When it was all ready to go I have to say that I was skeptical about it working but to its credit it actually just worked. Tapping the 'Watch TV' button flips to the BT Vision and it the TV is off it powers it up. Tapping 'Play Games' boots up the Xbox One and 'Watch Apple TV' does just that. When using it to control the Xbox, the touch screen display actually changes to a colour-coded A, B, X, Y display that mirrors the controller which was a fantastic surprise. Although, there are a number of physical buttons to use the touchscreen also has various gestures which allow the user to play, pause, fast forward and rewind.
Overall, the Harmony Touch is a well-crafted, and well-realised universal remote control. The favourites app-like interface is a great feature and once set up correctly it works amazingly. There are a few niggles when setting up and of course, there is the cost, but once you are done troubleshooting you will find this really is one remote to rule them all.