If you have heard of The Gorilla Pod, then you know Joby. Their mobile phone tripod allowed vloggers worldwide to record anything from anywhere thanks to its spider-like tripod that could grip all sorts of surfaces. Since its success, the product range has grown substantially and so it makes sense for Joby to move into microphones for the vlogging community. The Joby Wavo Pod is a studio-quality mic that is light and durable for the active vlogger. Join me as I take a look and listen at the Joby Wavo Pod Mic.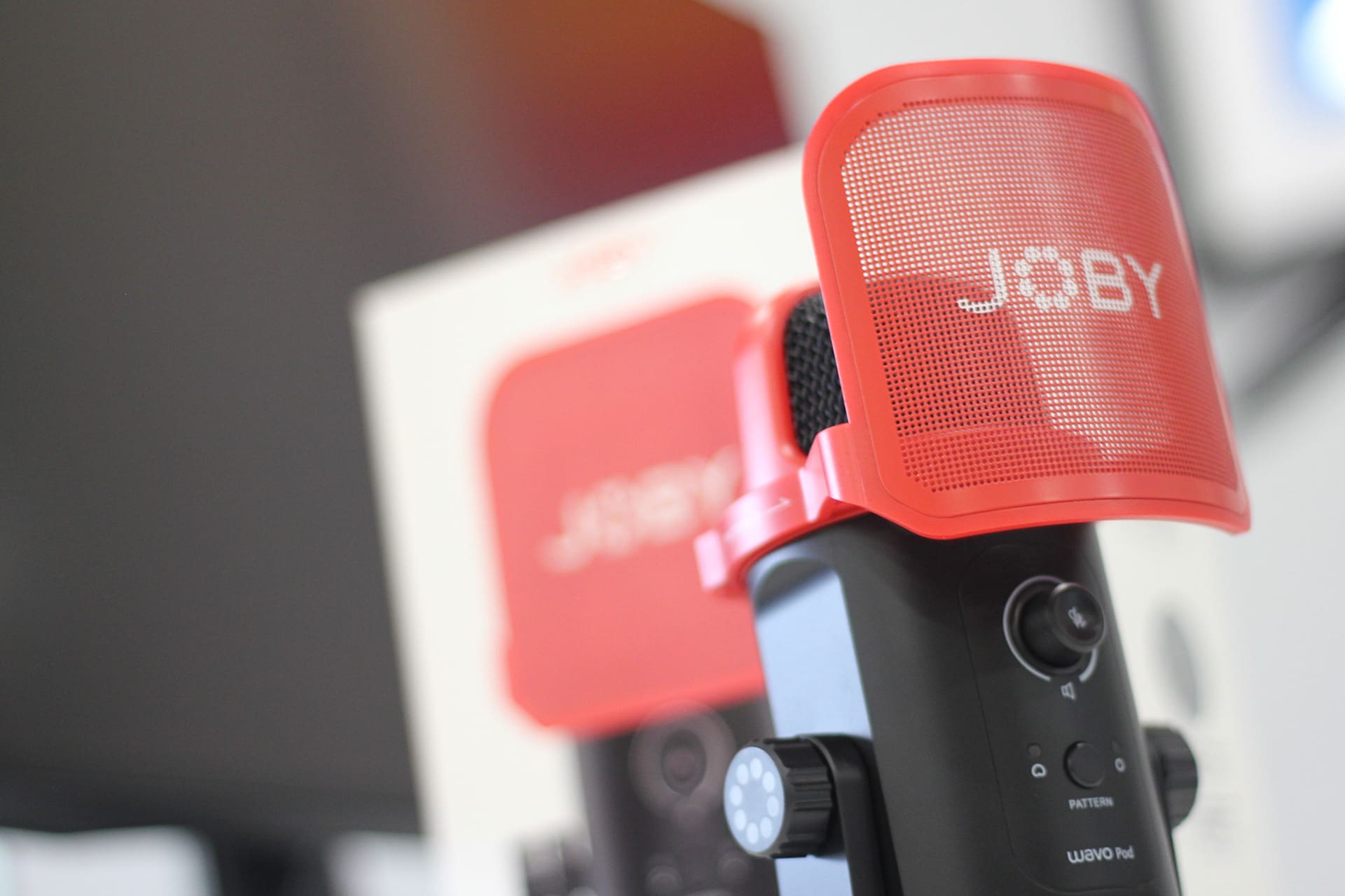 The Look & Feel
The Joby Wavo Pod Mic is striking with its black brushed metal finish and eye-catching red pop filter. However as red might not go with every streamer's setup it may not be everyone. However, what is clear, is that Joby wants the Wavo to be a statement piece and something you put proudly in shot for all and sundry to see.
The majority of the weight is in the base plate. The body of the mic itself is light so shouldn't be an issue for cheaper boom arms. On the back there are two controls; the first is a multi-functional dial that controls the gain and volume, as well as mutes it. By holding the button for two seconds it cycles through the different functions. Underneath is the pattern switcher that changes between omnidirectional (for podcasts or group conversations) or cardioid patterns for creating solo content. The simplicity of the controls is fantastic as it makes recording idiot-proof. However, audiophiles looking for more precision control may prefer the clunk-click of the more expensive mic. The Joby makes it extremely easy to get started with little or no audio technology knowledge and would be perfect for those starting out.
The heavy base is removable and reveals a standard 3/8 screw fitting for most boom arms. Handy for those looking to be able to move the mic around quickly and easily. Underneath a 3.5mm headphone jack and the USB cable port. The headphone jack allows for zero-latency monitoring of your vocals, but it also just serves as a decent DAC for your computer. Right out of the box, it comes with USB-C and USB A connectors allowing you to plug straight into your phone or computer. The stand itself is a sleek U bracket with two easily adjustable screws to rotate the main body. Having an adjustable desk, I often switch between sitting and standing, so this feature gets a lot of use in my studio.
The last point on the looks has to be the included pop filter. It is fantastic that it comes as standard, as it allows new content creators to concentrate on the content and less on the audio quality. When I first started, I used the Blue Yeti, but after creating my first few videos I realised that pop filters are essential. Further to that, I realised that not all pop filters work with all mics. In short, it would have been really handy to have working pop filters from day one. The Joby Wavo Pod has one pop filter included (for cardioid/solo recording), but you can also purchase a second one for omnidirectional sound when doing an interview or podcast.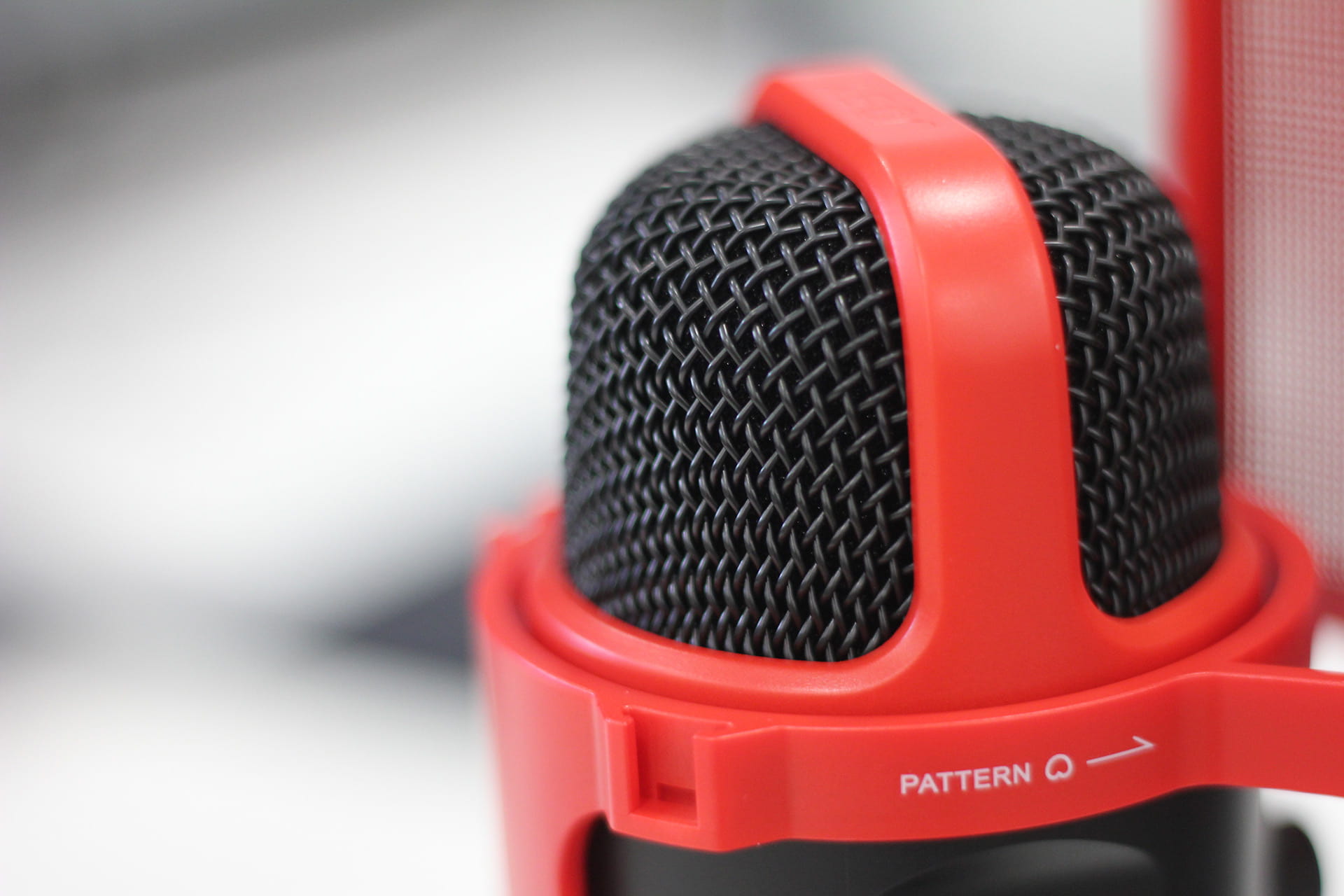 How does it Sound?
For those who know about audio quality levels, the Joby Wavo Pod mic enjoys 24 bit 48khz high-resolution sampling rate which is fantastic if we compare it to its competitors. The Rode NT USB is 50% more expensive and Blue Yeti is 25% more expensive and both run at 16bit 48kHz. As such, $100 or £89.99 for the microphone, AND pop filter and cables is a great deal.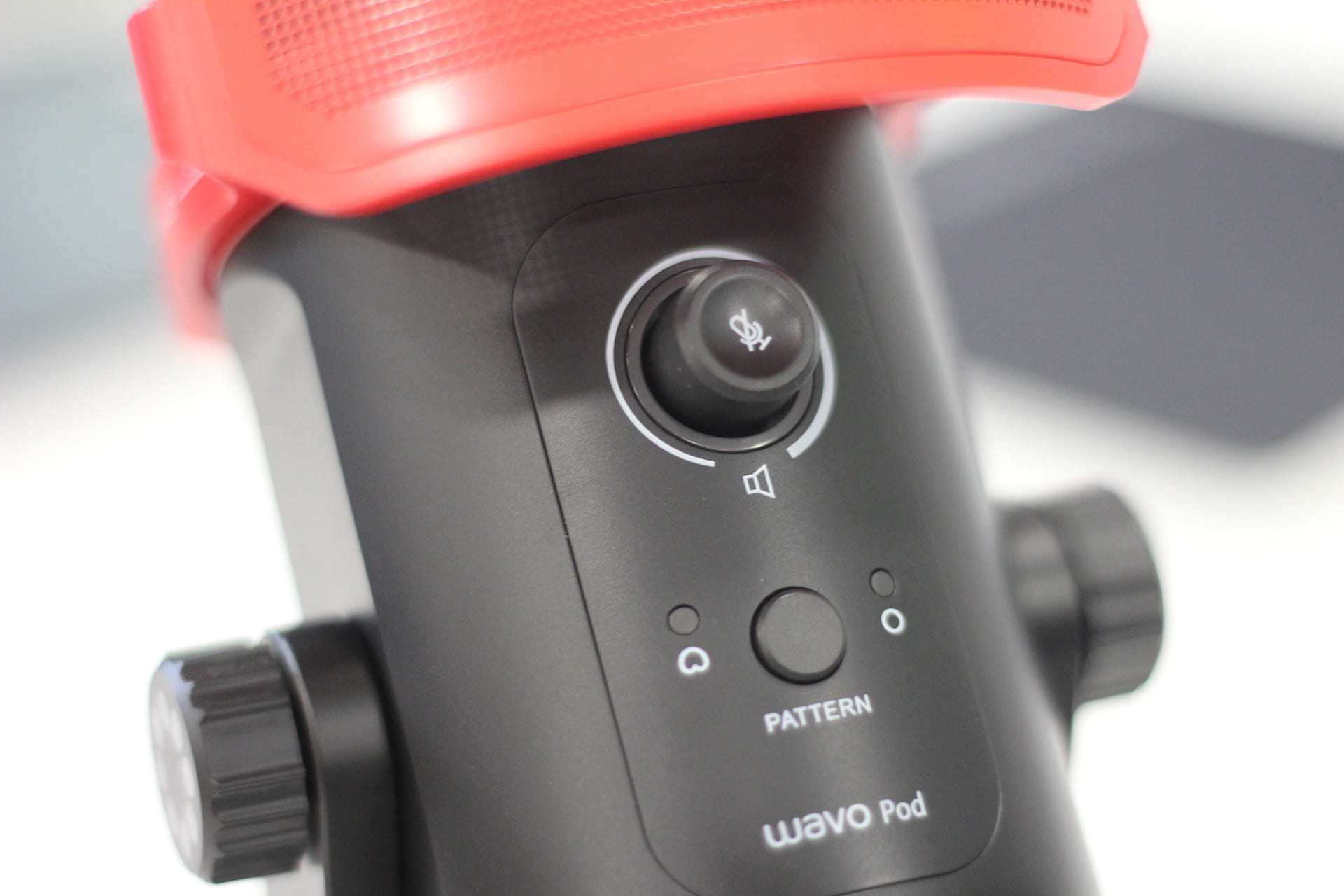 The Connectivity
The Joby Wavo Pod mic is also an octopus. Ok, it's not got tentacles but it comes with multiple connection options for the array of Joby addons. One arm can come out to hold a light, another can hold your phone, and another can hold a boom mic. There are various combinations you can try which makes it a hugely versatile and useful bit of kit for budding content creators. The additional arms and accessories don't come as standard, but are a fantastic edition and help keep all of your equipment together.
Overall, the Joby Wavo Pod Mic is a head-turning starter mic for any content creator. Whether you are a streamer, gamer, or podcaster, the Wavo Pod has everything you need right out of the box and can be extended as and when you need to. For only £89 or $100, the sound quality is clear and comparable to its competitors. The mic works well on a desk or hanging from a boom arm, and packs away easily for creators on the move. The red colour won't be for everyone and if you are looking to make a living from audiobooks or voice-over acting you may need to look at the higher end of the market (along with padded rooms and specialist software). However, I was pleasantly surprised by the Wavo Pod Mic as it easily surpassed similar mics in its price bracket and even those at almost double the price. The connectivity and versatility of the mic make it a fantastic option for creators and ensure its longevity in any studio.