Thanks to smart lighting, you can now turn your lights on before you get home from work, turn the kids' bedroom lights off while you're watching a film in the living room, or pre-set your lights to a welcoming hue when your dinner party guests arrive.
Smart lighting systems connect all the lights in your home (or as many as you'd like to be connected) to a programmable hub over which you have full control, wherever you are.
Is smart lighting just a gimmicky fad? It can be plenty of fun, for sure, but it's not just for fun. Smart lighting can help you reduce your energy bills, make your home more secure and simply make life run just that little bit more smoothly.
Smart lighting and the automation trend
If you've heard of the Internet of Things, you'll already know a little of how smart lighting works. Along with smart thermostats, baby monitors, and toothbrushes, smart lighting automates your home and makes it easier for you to make everything work just right. If standard lighting (and other) systems are off-the-peg, smart systems are couture, allowing you to tailor your surroundings to your needs and desires.
That's pretty appealing, a fact demonstrated by the rising market, showing compound annual growth rates of 25% a year in the smart lighting market in the US. Nearly two-thirds of people plan to buy connected technology for their homes by 2019, and many of those will be buying lighting.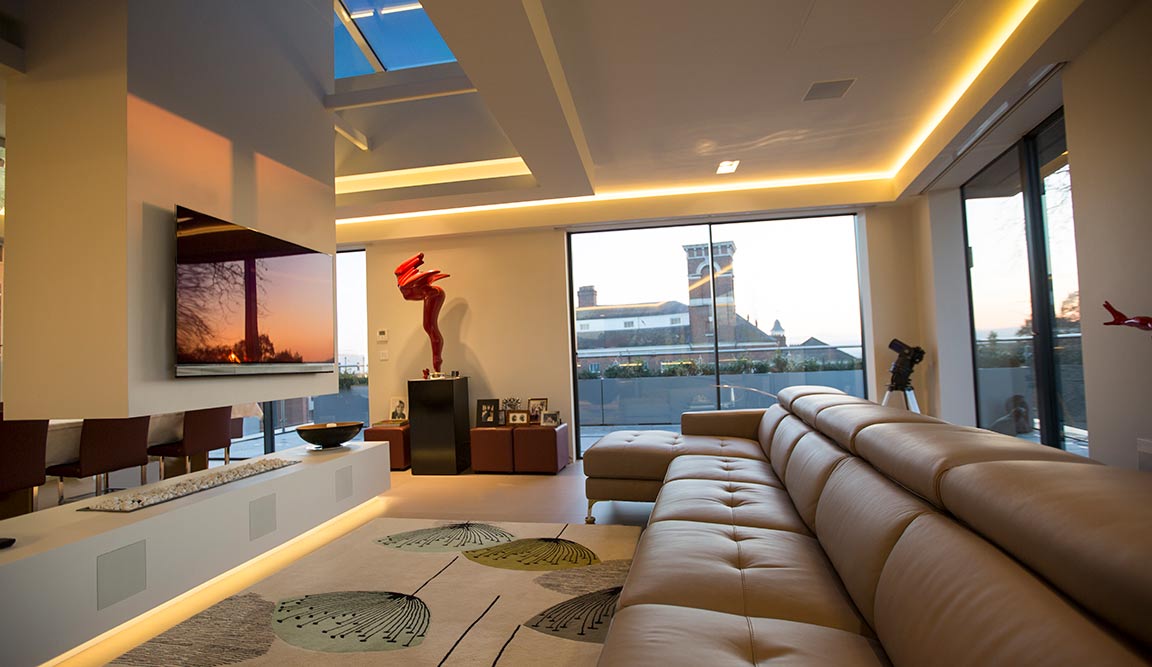 What can you do with smart lighting?
Smart lighting is an instant home improvement, with applications that are both practical and enjoyable. Install a smart lighting system, and you'll be able to:
     

Increase security by setting your lights to turn on and off when you're not home, helping give the impression you're there when you're not.

     

Save energy by making your lights movement sensitive, so they'll turn on when you walk in and off when you walk out.

     

Do away with your light switches, using your phone or laptop to control your lights from anywhere.

     

Change your lighting to suit your mood. Maybe you know you'll want bright, white lights in the morning to wake everyone up, but dim, warm lights in the evening so you can relax. You can pre-programme your lights accordingly, or change them on the hoof.
How smart lighting works
Smart lighting connects using WiFi, Bluetooth, or both. Sometimes you'll need a dedicated hub, too, but not always. You can then control your lights using an app on your computer, phone or tablet. If you want to feel super-cool, you can use voice control.
The quickest and easiest way to install a smart lighting system is to switch out your existing bulbs for smart bulbs. The alternative is to keep your bulbs and change to smart switches. This one's fiddlier and will require some wiring changes, but it's ideal if you've got unusual or specialist lighting, that you need particular bulbs for, such as chandeliers.
Smart lighting design
Once you have the basics up and running, your smart lighting system can become part of your interior design. The quality of lighting can have a significant effect on mood and ambience. Smart lighting allows you to play around with different light levels, tones and colours. If you want to go from cool sophistication to bright lights and party times, you can, without even moving rooms.
Smart lighting is practical, fun and effortlessly futuristic. If you want to feel like you live in an episode of The Jetsons, you can do so just by changing your lightbulbs.