When it comes to ambient lighting, the Phillips Hue range of products has always been at the forefront of innovation. With a growing range of controllable coloured lighting, they are synonymous with smart bulbs. In their quarterly worldwide event, Phillips introduced a multitude of new lighting tech for gamers looking to immerse themselves in the games or complete their gaming setup in style.
The new Philips Hue Play gradient lightstrip for PC brings the ultimate light experience to PC gaming. Gradient-enabled lightstrips produce multiple colors of light at the same time, creating a seamless gradient of rich, high-quality light. The colors flows naturally into one another to create a truly captivating effect.
The Play gradient lightstrip for PC flashes, dances, dims, and brightens right along with the on- screen action, creating an immersive gaming experience. The Play gradient lightstrip attaches to the back of your monitor with the included mounts and creates a halo effect when the monitor is placed close to a wall, thanks to the 45-degree sleeve design. The lightstrip's flexibility means it can be added to straight or curved monitors and comes in three different sizes to equip your battle stations — a 24/27-inch lightstrip and a 32/34-inch lightstrip for single-monitor setups, and a longer strip designed for a three-monitor setup using 24/27-inch screens.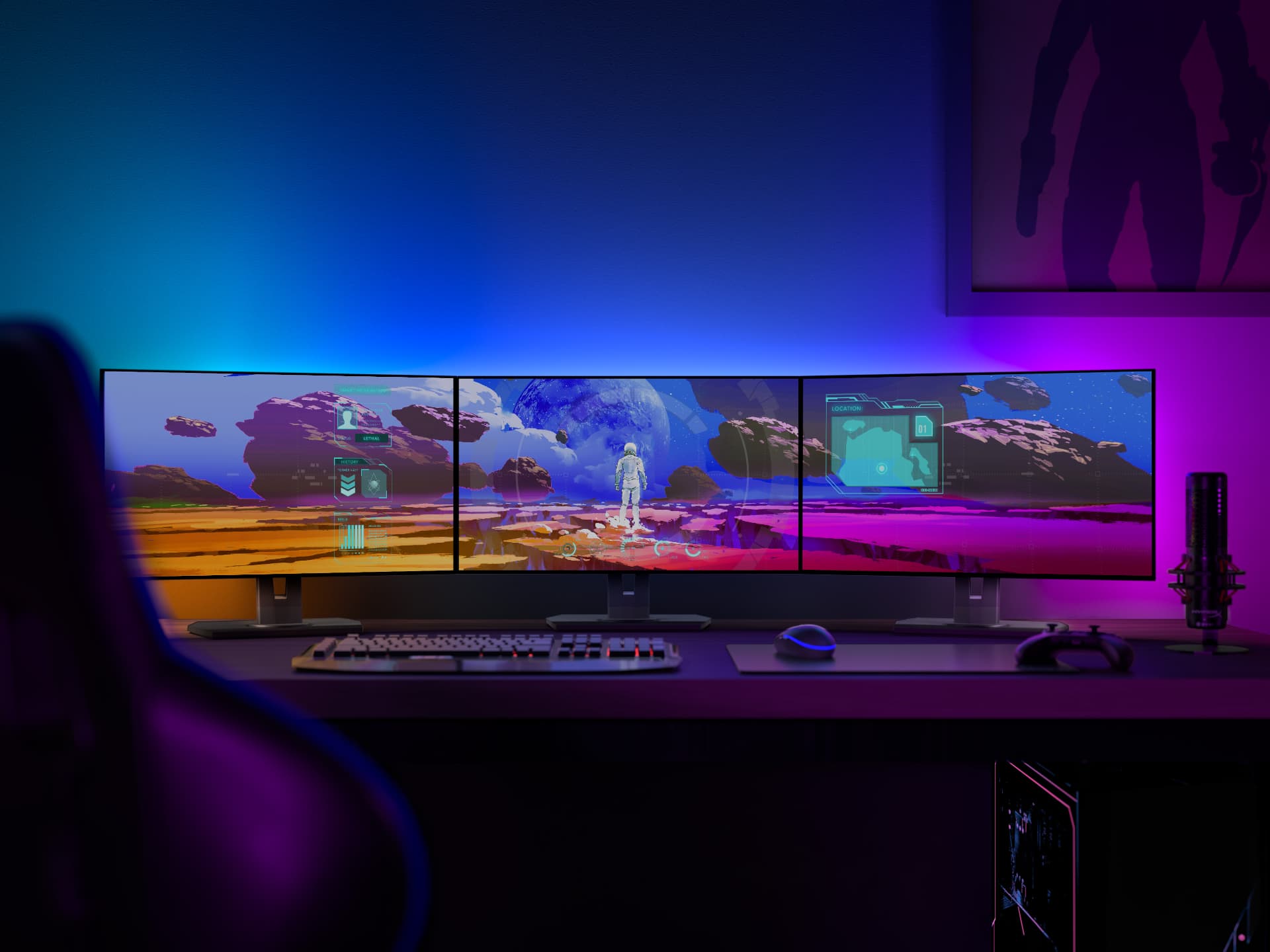 Philips Hue has teamed up with CORSAIR to light up your PC in a whole new way
To support your immersive gaming experience, Philips Hue and CORSAIR have teamed up to give you the ultimate gaming setup and bring your gaming to life with light. You can use CORSAIR iCUE to set scenes on Philips Hue lights in your room or gaming space, synchronising with your CORSAIR RGB gaming peripherals to create the perfect gaming atmosphere.
To keep your immersive entertainment setup simple and user-friendly whether gaming or simply watching the TV, the current sync box mobile app will be merged with the Hue app in Q4 2022. The merge of the Philips Hue sync app into the main Hue app means users can start and complete their full entertainment flow, all in one place. The Hue app is the new home for creating entertainment areas, setting up the sync box, controlling the sync box, or enabling features such as voice and IR control for the sync box. The sync mobile app – the separate app that controls the sync box – will be phased out from app stores.
Thank you for the Music
Philips Hue is making syncing lights with music available on even more devices. Now you can immerse yourself in music by syncing your Philips Hue smart lights with your favorite songs on any Samsung Galaxy smartphone with Philips Hue + SmartThings music sync. If you use a Galaxy phone or tablet, use the Music Sync feature in Samsung's SmartThings app to connect your smart lights. When you update the SmartThings app, SmartThings will enable Hue sync, an easy way to sync your lights and music from most streaming services on your mobile device.
I couldn't be more excited to see the new range of lights in action and looking forward to testing it out in my gaming room.