Coupons aren't the only way to save on family outings to your favorite restaurants. In fact, if you have young children in the family, there's a chance you have one or more eateries in your area that offer heavily discounted kids meals–or even completely free kids meals during certain days or times during the week!
With a list of all the best places to enjoy free or cheap kids meals, you can easily plan your next family outing or pitstop with the young ones. The great thing is that there is a huge variety of restaurants to choose from, including pizza, all-American, delis, and buffets to satisfy your cravings and feed the whole family–kiddos included.
Some restaurants offer kids meals at rates as low as $0.99 with the purchase of an adult entree. It may only be during certain times of the evening or only on certain days, but the savings can be well worth a visit if you're looking for a family dinner that doesn't break your budget.
There are also plenty of restaurants like Carrows, Cicis, and Double Dave's Pizzaworks that will treat you to a free kid's entree or buffet with the purchase of an adult version. Other places may instead offer something like a free dessert with the purchase of a kids meal, which can be an extra special treat for the kids.
It's always a good idea to call ahead to a restaurant you're interested in to see if the days of their special offerings change, or to double-check on any age or height requirements they might have. So, next time you're looking to take a break from the kitchen and want to feed the family, consider looking up places you can eat at affordably and still enjoy!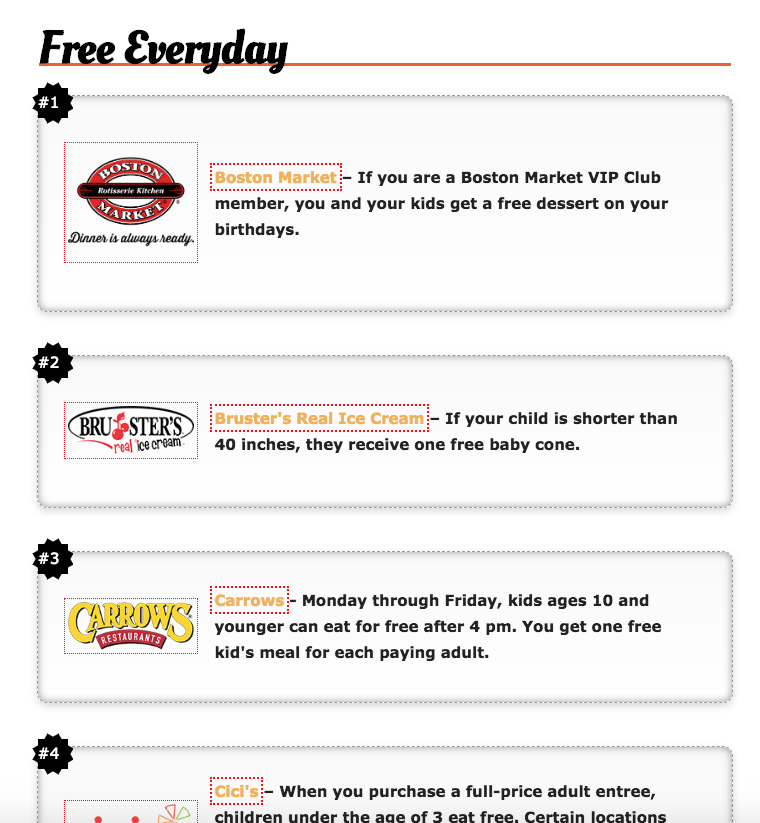 See the full list here: https://dealmeisters.com/kids-eat-free/